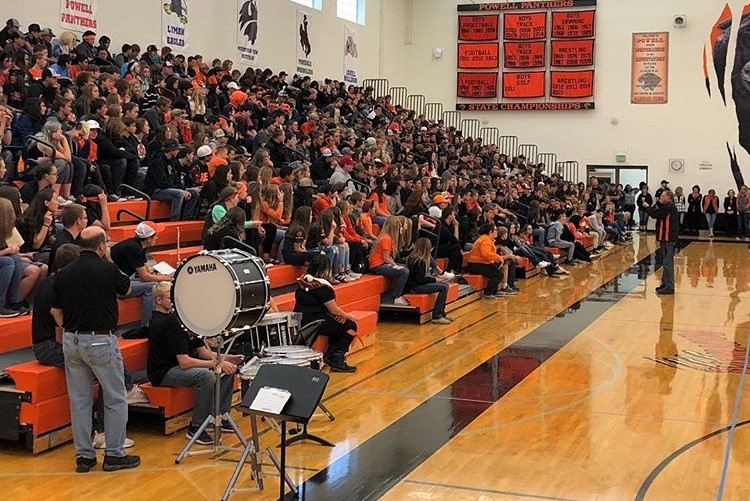 Photo courtesy: Vin Cappiello
Yes, I'll miss high school
By Kenadee Bott/Prowl features editor
Four years. 36 months. 144 weeks. 720 days. Not including holidays, we seniors have been in the Powell High School building for 720 days. We have been learning the required material just to walk across a stage, shake hands with our principal and finally hold our diplomas in our hands.
We've studied endless hours, taken dozens of tests, had many restless nights and possibly had a few mental breakdowns, if you're anything like me. However, we won't remember the nights we were stressed. We won't remember the questions we missed on that common assessment.
We will, however, remember those Friday nights spent out with friends. We will remember the games when we cheered every Friday night under the lights of the field. We will remember the memories we created in the four years we spent in high school.
Some aspects of high school that I will miss include:
The beginning of our independence
High school is when teenagers begin to experience small aspects of adulthood such as driving, time management and consequences. Here, teenagers can begin to understand the limitations of being independent without having to be exposed completely. Students can experience what works for them concerning how they choose to spend their money, how to spend the small amount of time they may have, or deal with consequences on the mistakes they might have made. Either way, this start of our independence has taught me how to be more prepared for life after high school and even college.
The thrill of the game
In movies, you see students under the Friday night lights cheering on their team. However, in a small town like Powell, these aspect come to life. Students put incredible amounts of work into supporting their peers, including "painting up" or painting the word "Panthers" on their stomachs. Despite the cliches or the drama within the school, our student body comes together for a night to cheer on the Panthers. Our student body also participates immensely in fundraising activities. In years past, our student body has raised thousands of dollars to support a child  in need or organizations that may need more funds. It's truly amazing to see our peers come together to create these memories that will last for years to come
A little bit of extra time
In high school, there are many opportunities that are available for students. Some students are heavily involved in sports. Here, we learn how to work with others in order to win the game. Sports also give students a reason to be involved in an activity they are passionate about while being able to exercise during practices. However, not all students are as athletic as others. For students like me, there is theater, band, choir, speech and debate, robotics, FFA and even a chess club that students can participate in. Here, students can be around others who are passionate about the same activities as them. Here, students can express themselves through their works. These extra-curricular activities allow students to express themselves in the way that they choose to do so because no one will force any student to join something they don't want to join. Here, some of the best memories are created.
Academics
Classes are definitely not the most exciting thing about high school. There are tests, homework and unneeded amounts of stress that occur because of certain classes. But, students always have a class that makes them want to come to school. Here, students are able to figure out what they love learning about and discover what they want to do with the rest of their lives. Whether it be math, science, English, art, theater, or journalism, students are able to find subjects that appeal to them in ways that make them happy.
Friends for a lifetime
Last, but definitely not least, high school is a time that we learn to trust people. It is a time that we create bonds that we depend on through our many years in the building. Here, we create our favorite memories of laughter, compassion, excitement and over all joy. Our friends are the basis of what make us happy during our high school years. Our friends have been there for us through our ups and downs. It is these people that we are going to look back on in years to come, and smile because of the happiness they brought to us. They are the memories will will miss the most.
High school has been a roller coaster of a time. Everybody has had their highs, and for some students, it may be a different kind of high…. But still, these are the times that we will look back on in years to come. It may not have always been positive, but there are plenty of times  where I will look back and think, "I miss my high school years."
Nope, won't miss it a bit
By Kara Borcher/Prowl reporter
Eight months ago I was just beginning my journey as a Powell High School senior. I couldn't imagine being anywhere other than in high school. It was all I knew.
As this semester winds down, my fellow seniors are realizing, Hey, we don't have to come back next year.
However, the fact that graduation is basically a month away has not yet sunk in. This year has gone by so fast, and as the final weeks approach, nostalgia hits and I find myself looking back at my four years here at PHS.
As I reminisce, I have come to the decision that I will not miss my time in high school. Here's why:
Independence (or lack thereof)
High school provides students with a false sense of independence. We are told we have the freedom to be responsible for ourselves, yet we are actually micro-managed down to the minute. I find comfort in the idea that for the next four years of school, I will decide what time I wake up and what time I eat breakfast.
School Spirit
In recent years school spirit has declined a lot. Going to games and supporting the Panthers used to be an all-school ordeal. People would paint up and bring a plethora of orange and black to show their school pride. Now, it's difficult getting the few students who do show up to be loud and proud. Goofy outfits and catchy chants were the things that brought the PHS student body together. What I do miss is the crazy fun the student section had at games.
Extracurriculars
Extracurricular activities are important, but when you don't have an athletic or musical bone in your body, it makes it difficult to find a place you belong and an extracurricular you are passionate about. College applications seem to be based on involvement in high school, yet it seems not enough extracurriculars are offered.
Academics
Once the first three years of high school are completed, academics go down the drain. We've already taken the ACT and there aren't very many classes left to take. College classes are all that's left and even then the selection is limited.
Social life
Last but not least, the number one thing I will not miss about high school is the drama. Petty high school drama is the reason I want to bang my head into the wall. It's all the same too. If there's a fight, you can probably guess what it was about. Relationships, romantic or platonic in nature, are the usual culprit. Of course there are good friends who provide good times; that is not to be ignored. But the petty drama is something I most definitely will not miss.
High school wasn't all bad. There were great memories spent with friends on Friday nights that we will look back on and remember fondly, but there are definitely some aspects that have made me glad that the past four years are coming to a close.