THE NERDS FIGHT BACK
The PHS nerds stand their ground with state championship wins in robotics, writing and drama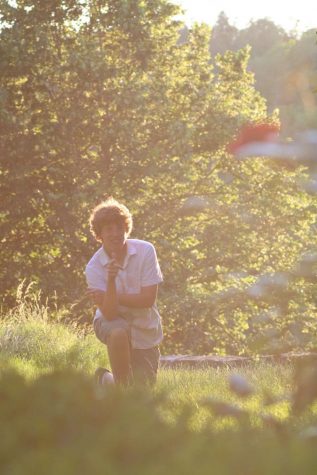 More stories from Grant Dillivan
I felt on top of the world. My teammates and I, celebrating our state title on the bus home. Cheering, goofing around, blasting songs such as "We Are the Champions." On that six-hour bus ride we felt truly alive, unbeatable, unstoppable.
The next day? Not a whisper of our victory passed the lips of our peers. We felt like nothing.  We felt uncared for. How could this amazing victory be merely looked over you ask? Because it was State Drama.
In high schools across the country, the accomplishments of the "Nerd Population" are often overlooked, no matter how impressive these accomplishments are. And things have not gotten better.
Great accomplishments are earned by our students in all sorts of activities, but many don't get recognition. We see this neglect in our own school.
A fantastic example is the PHS Robotics Team.
"We were top five at Montana State," programmer and Powell High School junior Tristan Willett said.
Every year they place at state and national level meets, yet little or no recognition is slid their way, and their trophies are placed in a small corner of the school.
"I feel like it's not necessarily cared about," said Willet.
Another example is that of Bailey Phillips. This PHS Junior placed first place in a state-level Wyoming writing competition.
"There's no national level, so it's the highest accomplishment you can achieve in this program," Phillips said. "When one of the sports teams so much as places, there's at least an announcement made, but no such treatment was given to my state-level first place win.
"I don't think it's narcissistic to want to be congratulated for an important achievement, but it certainly comes off that way when you have to tell people about it yourself."
Another example is senior golfer Mycah Wainscott, who placed third at state and was named All-state golfer. This doesn't happen often, even with our large sports teams.
"I've got All-Conference honors for the past three years and All-State honors for the last two," Wainscott said. "I have also placed top 10 in many tournaments my junior and senior year."
These are all notable achievements, especially how she has earned these titles for two years. Her peers didn't seem to agree with this, with little recognition or praise being thrown her way. I had no idea of these accomplishments until I interviewed her.
"It does feel good to be recognized now and then," Wainscott said
"
It does feel good to be recognized now and then"
— Mycah Wainscott
Now, back to State Drama. Our team took state, a title won by our school one other time in history. As stated earlier, we felt very good about this.
The school population did not share our enthusiasm. Other than my parents and a spattering of teachers, no one congratulated me. It wasn't mentioned over the announcements that morning.  This was strange for me as a freshman. Weren't all activities in our school supposed to be equal?
I quickly learned this was not the case. This is a wrongful practice. Every win is a win for PHS and should be celebrated as such, no matter the popularity level of the activity. We call ourselves Panthers, but our unity is a façade when we ignore certain activities. The Prowl staff noticed … hopefully others will too.