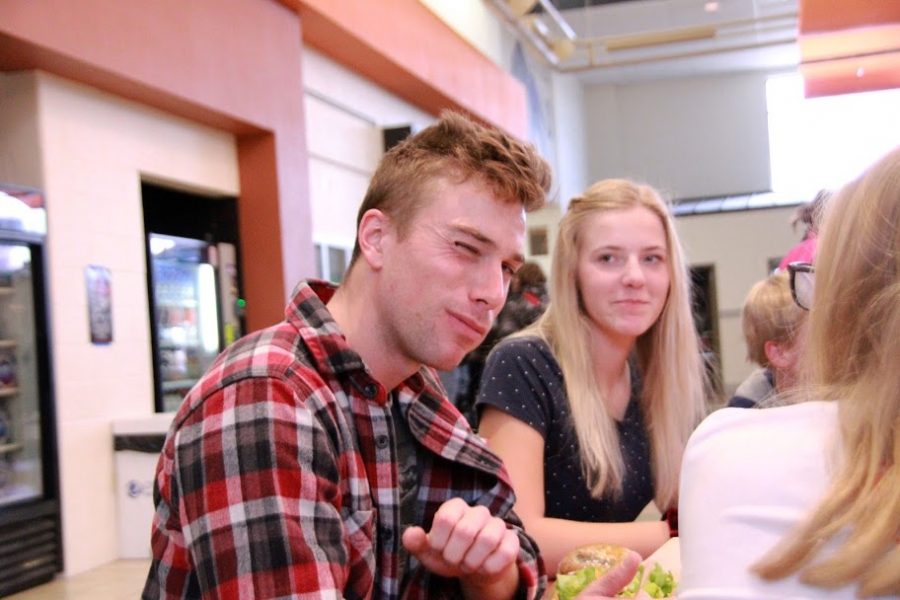 Abby Landwehr
As the dinner party guests dance around them, the two star-crossed lovers stare deeply into each others' eyes. The music slows and it seems that the entire world begins to revolve around the masked strangers. And as the two touch, a story of love, hate and time and fate unfolds and floods the theater around them.
Many of us know what it's like to fall in love. Some know what it's like to lose it. Others can only dream of its sweet enchantment.
But to some, it is hanging off of a balcony. To touch and yet be so far from. To know and yet be uncertain of. To be trusting and yet afraid of. This is the purest love of all. This is the kind of love portrayed in plays, books, and poetry.
Shakespeare in the Schools brought Powell High School's staff and students within the walls of Verona, home to the feuding families of Montague and Capulet, to share the age old story of Romeo and Juliet on Oct. 22. 
Shakespeare in the Schools is part of the company, Shakespeare in the Park, based out of Montana State University. They come to schools and set up the stage early in the morning, perform the play, assist in the workshops, pack up the set and hit the road only to do the same thing again the next day.
After the play, the actors sat and ate lunch in the cafeteria along with students. Many of the students found that the actors' view of Shakespeare were similar to their own.
"I went to college because I wanted to be an actor and we had to learn Shakespeare," Alexis Walker, who played Juliet, said. "I hated it."
So those of you who groan at the sound of Shakespeares' name, you're not alone. And for those of you who love it, there's people in the cast who do as well.
"I love Shakespeare and I love education," Sam Douglas, who played the part of Romeo, said. "And I think there's something really special about being able to take something that is often seen as really complicated, that feels like it's written in a different language, and to share it with you all, who are super smart and capable of understanding it, but may not believe that you are, but you can. It's so awesome to see that switch happen."
Although the characters of Romeo and Juliet never existed in real time, the actors are able to bring their stories to light. And by looking through their eyes and feeling their emotions, the actors find it incredibly easy to relate to the character they portray.
"I think that anybody can fall in love, anybody can get their heart broken," Walker said. "I can't relate to stabbing myself but, like, other than that I feel like she's [Juliet] very smart and she likes to do every-day things and I like that about her."
Some of these actors revisit their early years while taking on their roles.
"Yeah, I was a teenager and I was a lunatic," Douglas said. "And I made so many decisions so quickly without any time to think, and fell in love and was so devastated when that wasn't reciprocated, or when it was, it was so magical. I just think we can all, at least I hope we can all, identify with that."
It's the accidents of fate that bring Romeo and Juliet together. They meet at a ball and that same evening profess their love to each other. Then they are married in secret, undeterred by fate. But it's not fate that eventually destroys them. 
Blind, willful and stupid hate does. 
"For never was a story of more woe 
Than this of Juliet and her Romeo."