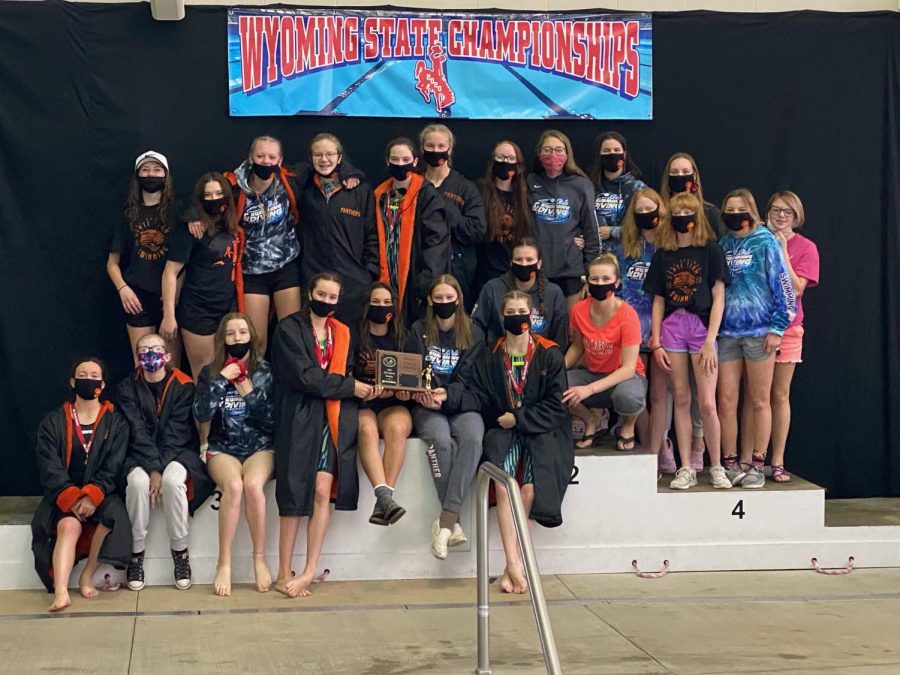 Photo courtesy: Bailey Jackson
Paced by four seniors — Addy Moretti, Madison Lowery, Elizabeth Liggett and Emma Karhu — the Lady Panther swimming and diving team made the podium on Saturday.
Specifically, they placed 3rd at the 3A state competition in Laramie, with all four seniors making finals in several events.
The top spot on the podium went to Green River, which won with 282 points. Formerly a 4A school, this was the first year the Lady Wolves competed at the 3A level. Powell's cross-county rival Cody placed second with 193 points, while the Lady Panthers put 188 points on the board, edging Buffalo (183).
Lowery swam a leg on the 200 medley relay, which placed fourth, was fifth in the 50 free and 7th in the 100 free. She and Liggett swam a leg on the 200 free relay, which earned a bronze. Meanwhile, Liggett and Moretti placed fourth and fifth, respectively, in the 200 free; fourth and eighth in the grueling 500 free; and swam legs on the 400 free relay, which placed fifth. Karhu placed third in diving.
"The 2020 Lady Panther swimmers broke many school records this season, including the record for the most times Coach Bailey ugly cried in one day," Assistant Coach Miss Bailey Jackson said in a text to the Prowl.
For complete results of the meet, click here.