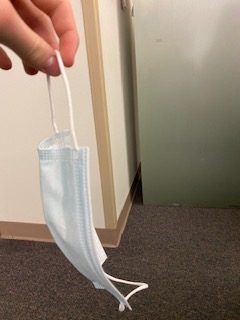 Aiden Chandler
Eight months of covering faces. And 243 days of iPhones not being able to recognize these faces. The question facing the school board recently was: Should the mask mandate be lifted?
K-12 schools in Park County reached a 51 per 100,000 population of testing positivity, making  the positivity rate an astounding 0.3%. 
On April 29, State Health Officer Alexia Harrist signed off on the mask variance, allowing students and staff in school buildings across the district to finally remove their masks indefinitely.  
"I am very glad that masks are now optional," senior Jaxton Braten said. "Being able to see everyone's faces was very different."
. 
However, not everyone shares in Braten's relief.
"I'm thankful we have not had many cases in the past month," junior Emma Bucher said. "But it is still smart to be proactive and wear your mask and social distance when [it is] possible."
Braten is happy with the school board's decision and he believes it was the right choice.
"I think that it was a smart move for the school [to lift the mandate] as people have had the chance to be vaccinated if they want, or if they feel uncomfortable, they can mask up," Braten said. "Having it be a choice, I think was a great move by the school."
Whether they agree with the variance or not, students are generally pleased that everyone at least has the option to mask up or not.
"I will still be wearing my mask at school," Bucher said. "Overall I think it is nice for people to have the option to wear masks or not."