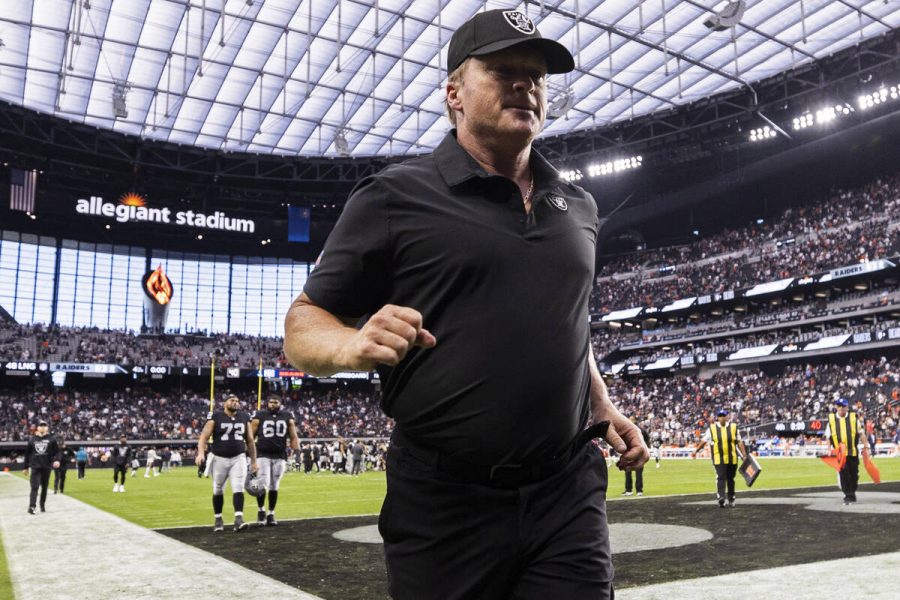 Creative Commons
After inking a ten-year, $100 million contract in 2018, Jon Gruden is out as head coach of the Las Vegas Raiders in 2021. The real surprise — it had nothing to do with performance.
"I don't really follow the NFL," Powell High School junior Drew Valdez said. "So when I heard he resigned I knew it was a big deal."
According to the New York Times, Gruden resigned after multiple emails were uncovered in which he wrote racist, misogynistic, and other offensive comments. Sent in 2011, the insults referenced players, referees, league officials, and league commissioner Roger Goodell among others.
"I don't think he should've been forced to resign," PHS junior Hyrum Jeidi said. "It was ten years ago; there should be a statute of limitations." 
According to the Washington Post, "Gruden's remarks were made when he was in retirement from coaching, and working as an NFL analyst. However, he returned in 2018 to become the third highest paid coach in the league. After an NFL investigation discovered his emails, his time as the Raiders head coach came to an end."
"It doesn't matter how long ago he said it," PHS senior Brent Childers said. "If he said something truly racist or offensive with the position he's in, he got what he deserved." 
The former coach made homophobic, racist, mysoginistic, and sexest remarks towards players, coaches, referees, owners, and journalists. He also shared inappropriate pictures of Washington Football Team cheerleaders to several men including Dan Snyder, who at the time was president of the team. 
"He was really careless," PHS sophomore Seeger Wormald said. "You can't do things like that and expect it not to catch up to you."
The Raiders organization hasn't responded to Gruden's behavior, although Gruden himself apologized on Twitter. Others involved are facing little consequence simply because they weren't in such a prestigious position. With his reputation surely ruined, it will be captivating to see what Gruden's future holds.