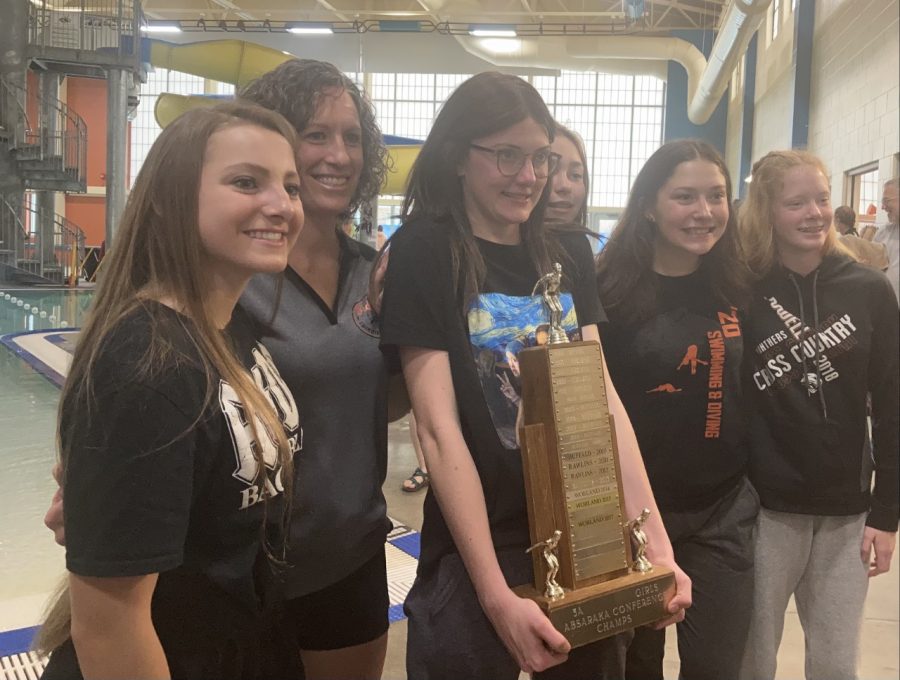 Emma Brence
The Lady Panthers Swimming and Diving team were not the only ones taking home a plaque. The girl's diving coach and assistant swimming coach Heather Christensen took home the title of Assistant Coach of the Year.
Success is becoming a habit for Christensen, now in her fourth consecutive year of winning this award. She was also recognized as All-Conference Assistant Coach of the Year at the girl's conference meet in Worland, an award presented at every state and conference meet.
Coaches vote on head and assistant coaches of the year. The nominations are voted by fellow coaches and this shows the impact Christensen has on the other teams.
"It is truly an honor and a privilege to get this award," Christensen said. "I think that it represents what work a coach puts in."
Christensen coaches a team of 5 divers, senior Taycee Walker, juniors Kami Jensen and Yessenia Teague, and sophomores Aramonie Brinkerhoff and Emma Brence. 
Christensen is also the assistant coach for the swim team. She is not only a great role model to her divers, but to the rest of the team as well.
"I think Heather receiving Assistant Coach of the Year was well deserved," Kami Jensen said. "She is such a great role model and supporter of not just the divers but all of the girls on the swim team."
Christensen is a former Powell Panther diver and knows what it takes to be a great competitor. She has helped both Jensen and 2021 PHS graduate Emma Karhu reach state championships during their junior years. She also has helped other divers from other teams when their coaches could not be there.
"I think the girls on the team have helped me get here," Christensen said.  "It is all the hard work they have put in to help me get here."
Aside from practices, Christensen puts in a lot of time and effort to help improve training and skills.
"She is an amazing coach," Walker said. "She takes time out of her day to come and deal with us in her free time, and when she is not with us, she would research and figure out methods that could help us."
All of the divers plan to return next season with the exception of Walker, a 2022 graduate. The swimming and diving team also plans on training upcoming athletes from the middle school team.