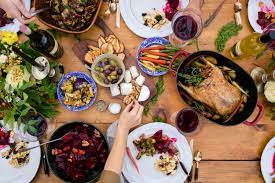 Creative Commons
Friendsgiving is an ever growing tradition with friends throughout PHS. Many students see it as a break during the busy holiday season. The bustling hurry with family and school can be relieved with a little fun and a lot of food.
Although most PHS students live with their families and celebrate holidays with them, a growing number of Friendsgiving traditions have been popping up. Senior Jace Bohlman is one of those students.
"I typically have Thanksgiving lunch with my family and one or two Friendsgiving dinners," Bohlman said. "We almost always play games at both of these events."
Good food is one of the biggest parts of Thanksgiving. Whether it's lunch, dinner or even breakfast, the food never seems to disappoint. A general rule for a Friendsgiving feast is the host makes the turkey and nothing more. Everything else is served potluck style. 
"For Friendsgiving, I always try to make some homemade bread rolls if I have the time," Bohlman adds. "And Apples to Apples is typically my favorite to play at Friendsgiving."
Another exciting part of Friendsgiving is the games and activities. Many people see these as a way to relax over Thanksgiving break.
"We usually go outside and play football or wrestle," freshman Juan Torres said. "If it's cold we go to the gym and play basketball instead."
Although it may not look like it from the outside. These times with friends are an everlasting memory and will stay with you for many years to come. 
"The time with my family is important," Torres says. "But hanging out with my friends, having good food, and making memories is what Thanksgiving is about for me."
The tradition shows a bond between friends and often continues for many years, even after highschool.
"If you are thinking about making your own Friendsgiving, then go for it," Bohlman says. "There are no rules, just another reason to get together and eat some good food."