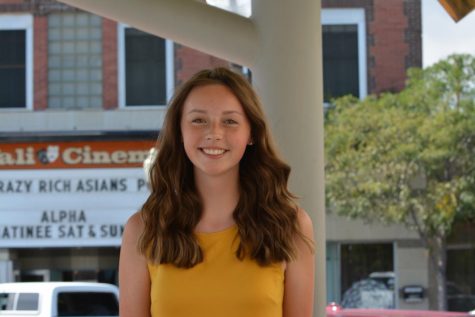 "Abby's strength and weakness is coffee," once said sophomore Ashley Dunkerley.
This is true because Abby's basically addicted to frappuccinos. She is a sophomore who runs cross country during the fall and spends the rest of her year in the auditorium learning lines for theater. She's also probably one of the most Marvel-obsessed people you will ever meet. When Abby isn't geeking over Ant Man or Spider-Man, she's most likely listening to the soundtrack of
another
Broadway musical. She spends the rest of her time shoving her camera in everyone's face and taking videos or pictures of literally everything (go follow her photography page on Instagram, @landwehrphotography). Also, she goes by Abby. Not Abigail. Don't call her that.
"Kanye … it's Kanye, Abby," says Cap as he and the class collectively roll their eyes.
Abby Landwehr, Prowl Photo/Video Editor
Sep 17, 2019

PLAYING FOR NUMBER THREE

(Story/Media)

Sep 10, 2019

2019/2020 FOREIGN EXCHANGE STUDENTS

(Story)

Sep 09, 2019

PAINTING THE TOWN RED

(Story/Media)

May 22, 2019

A POWELL HIGH SCHOOL BASKETBALL GAME

(Story)

May 22, 2019

PARK COUNTY ANIMAL SHELTER

(Story)

May 22, 2019
May 22, 2019
May 15, 2019

AMERICA TRIVIA: How much do you think you know?

(Story)

May 09, 2019

THE BE ALL AND THE END ALL

(Story/Media)

May 02, 2019

HAVING A BALL MAKING A RACQUET

(Media)

Apr 19, 2019

FIELD BURNING DURING PRACTICE

(Story/Media)

Apr 04, 2019

STUDENT OF THE MONTH: Dylan McEvoy

(Story)

Mar 18, 2019

RESCUE DOGS SAVED FROM EUTHANIZATION

(Story)

Feb 27, 2019

STUDENT SPOTLIGHT: Meet Pedro Teixeira

(Story/Media)

Feb 21, 2019
Feb 15, 2019

SENIORS AND SONGS

(Media)

Feb 07, 2019

PHS Speech and Debate duo makes semifinals in Casper

(Story/Media)

Feb 01, 2019

SKILLS USA: Preparing students for the workforce

(Media)

Jan 29, 2019

VIDEO: SOUPER BOWL of CARING

(Story/Media)

Jan 22, 2019

WHITE HAWK and the WHITE HOUSE

(Story/Media)

Jan 04, 2019

YEARBOOKS OUT NOW

(Media)

Jan 04, 2019

Powell Middle School students plead for longer lunch break

(Story)

Jan 04, 2019

ALAN MERRITT: Student of the Month

(Media)

Jan 04, 2019

STAT CHAT : PHS sports teams start winter seasons strong

(Media)

Dec 04, 2018

SOUP OF THE MONTH

(Media)

Nov 15, 2018

Going through Halloween withdrawals?

(Story)

Nov 06, 2018

'Friends. Romans. Countrymen … '

(Story)

Nov 06, 2018

State Cross Country through the eyes of the runner

(Story)

Oct 18, 2018

Roll tide, Wyoming style!

(Story)

Sep 26, 2018

Students enjoying new schedule

(Story)

Sep 14, 2018