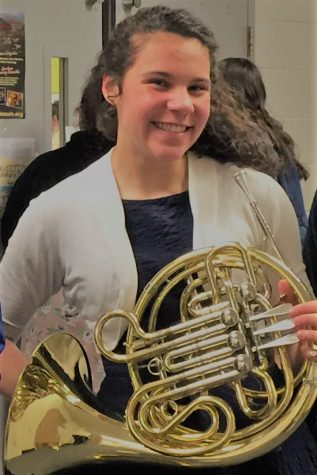 Skip all the mushy stuff… Elisa is the type of girl who would much rather go out and serenade the world on her French Horn in flames and glory! Because Horn players KICK BRASS!
A great day for Elisa starts with a victory walk down the hallway with friends while passionately dancing to old 80's songs.  Just a few of these include: "Build Me Up Buttercup," "Mr. Blue Sky," "Down Under," and "Africa."
Elisa is a living stereotype of a French Horn player: nerdy, fun-loving, dedicated, and she sits in the back of band class silently cursing the 'um-pas.'
(KILL THEM ALL WITH SWORDS AND FIRE!!!)  
Her patronus is
without a doubt,
a French Horn - she only plays on days ending in "y."
"She does the dancing down the hall thing until a teacher catches her and gives her a weird look saying 'You are insane,' I tend to stand at my locker looking at her the same way," said sophomore Hailey Bott.
"French horn players are easily the most talented musicians on the face of the planet," says adviser Cap, who played to blasted twisted mass of brass for nine years. "French horn players, however, get no love. That's OK. We suffer together in silence … that is … when the rest of the band is playing all the cool stuff and we have to count 60 measures of the song just so we can hit a quarter note on the up beat."
Elisa Polson, Prowl Reporter
May 22, 2019

SENIORS PLAN TO TAKE THE NEXT STEP

(Story)

May 09, 2019

PRACTICE PAYS OFF

(Story)

Apr 30, 2019

WHAT MAKES A GOOD TEACHER?

(Story/Media)

Apr 02, 2019

SPRING FARMING: TO PLANT OR NOT TO PLANT?

(Story/Media)

Mar 25, 2019

LEAN, (NOT) MEAN and CLEAN

(Story)

Feb 27, 2019

PHS SENIORS TAKE THEIR MUSIC OUT WEST

(Story)

Feb 14, 2019

ALL-STATE MUSIC: 10 students reflect on reaching musical milestone

(Story)

Jan 31, 2019

LUNCH ON A BUDGET

(Story/Media)