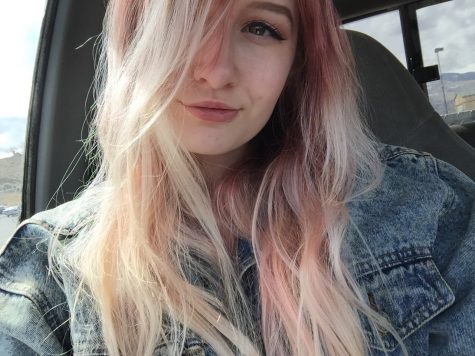 You may think all in all i'm just another brick in the wall but...
I'm a cinder-block.
And when you think i'm hiding in the corner of Cap's room, comfortably numb. I'm actually thinking
"Mother, do you think they'll drop the bomb?"
"Can't keep my eyes from the circling sky:
Tongue-tied and twisted, just an earth-bound misfit, I."
Hailey the music connoisseur.
The Conspiracy Theorist
The band geek
The weirdo (and accepting of it)
I don't have a niche but I really like to dye my hair erratic colors, listen to music, and make people laugh.
But I mostly just laugh at myself.
"Worry not," adds Cap. "We're all laughing at you too."
Hailey Carner, Prowl Reporter
Mar 15, 2019

IS HOMEWORK BENEFICIAL OR DETRIMENTAL?

(Story/Media)

Feb 26, 2019

BEST PART ABOUT SNOWBOARDING?

(Story)

Feb 16, 2019

LETTER FROM THE PRESIDENT

(Story/Media)

Feb 04, 2019

ART or VANDALISM?

(Story)

Jan 28, 2019

COLUMN: Is social media use turning us into narcissists?

(Story/Media)

Jan 09, 2019

WANNA MAKE A LIT PLAYLIST?

(Story/Media)

Jan 03, 2019

Removal of abstract nude painting draws mixed reactions

(Media)

Dec 12, 2018

WHY OLDIES ARE THE TRUE GOLDIES

(Story/Media)

Oct 10, 2018

Our 'Happy Place'

(Story/Media)