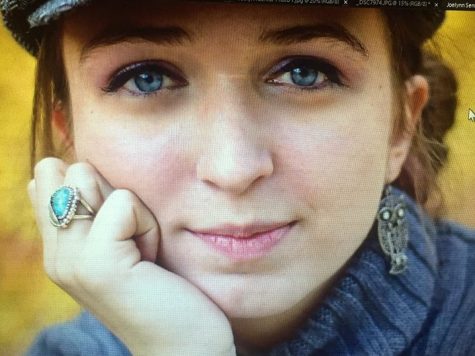 You know that girl who always has her nose stuck in a book and seems to be really quiet? Or that girl who strangely enough caries around screwdrivers in her backpack? Well, that girl is Joelynn. She is a major nerd who lives and breathes books. She is also the vice president of the Robotics Club (wow so nerdy), participates in the Drone club, and plays the flute. She also is starting to dabble in theatre. She had her first appearance as the singing telegram girl in the play
Clue.
She also has been dragged into the world of Dungeons and Dragons, so that is how she typically spends her lunch. To make that mess messier this chick also wants to build advanced robotic prosthetics in her future. She loves helping people and building things, so she decided she want to dedicate her life to helping people regain the use of loss limbs.
A quote she lives her life by is:
"Curiosity killed the cat, but satisfaction brought it back."
She is an overly curious person and this has lead her to loving school (WHAT A STUDENT WHO LOVES SCHOOL??).
"Give her jelly beans, a robot, unicorn blankets or anything book related and she'll take on the world with one swoosh of her purple hair," senior Abigail Cubbage said.
Adds Cap: "If none of this works out for her, I'd coach her in MMA; she's that good … and that scary."
Joelynn Petrie, Prowl Reporter
May 10, 2019

RUNNERS GO THE DISTANCE

(Story)

Apr 30, 2019

WHERE IDEAS TAKE FLIGHT

(Story)

Mar 05, 2019

PLANS GO HAYWIRE AT STATE ROBOTICS

(Story)

Feb 11, 2019

SLEEPLESS IN MONTANA

(Story/Media)

Jan 23, 2019

WILD BLUE YONDER

(Story/Media)

Jan 15, 2019

Let's get ready to RoboRumble!

(Story)

Jan 04, 2019

YEARBOOKS OUT NOW

(Media)

Jan 04, 2019

Robotics Club makes some noise at Helena meet

(Story/Media)

Dec 05, 2018

Wyoming wind: Friend or foe?

(Story/Media)

Nov 14, 2018

ALL THE RIGHT MOVES

(Story/Media)

Oct 21, 2018

The new (lack of) haircut style

(Story)