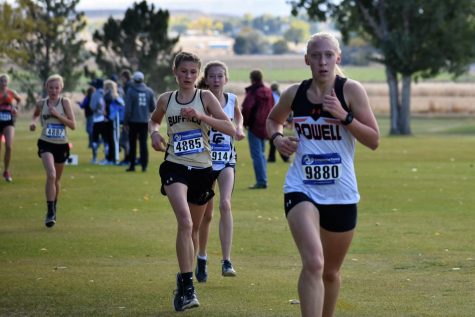 Kayla appears to be a quiet, calm person when you first meet her. But those who know her know she can be quite the opposite. Especially after a run, when major runner's high kicks in, or when she's surrounded by her friends. There is a crazy side to Kayla that shows itself in competition. The soccer field and ice arena are common places to see this intense competitiveness that kicks in, sometimes leaving people on the ground behind her or wondering how someone likes having pucks shot at their face repeatedly. Whether it's that determination that makes her a good leader, or something else, no one knows. But the "ducklings" on the cross country team follow and trust her so there must be something.
"Momma Duck is a great teacher," sophomore Jenna Merritt (Duckling Two) said. "No one's drowned yet."
But our esteemed adviser knows there's a chink in her thick armor.
"Make her stare at art and tell her there's a hidden image," Cap says. "Then sit back and feel sorry for her. Bring a beverage. This may take awhile."
Kayla Kolpitcke, Prowl Assistant Editor
Sep 13, 2019

ONCE A PANTHER, ALWAYS A PANTHER

(Media)

Sep 12, 2019

STATCHAT: SUCCESSFUL WEEKEND FOR FALL ATHLETICS

(Story)

Sep 11, 2019

SKILLS USA TAKES ON NATIONALS

(Story)

May 22, 2019

RUNNERS, TAKE YOUR MARK … SET …

(Story)

May 09, 2019

WELL DONE, MRS. DOUGHERTY

(Story/Media)

May 02, 2019
Mar 19, 2019

SOCCER SEASON IS UNDERWAY

(Story)

Mar 11, 2019

BUNDLE UP: It's time for spring sports

(Story)

Feb 21, 2019

3 PHS seniors work to earn esteemed award

(Story)

Feb 11, 2019

TAKING TO THE ICE

(Story)

Feb 11, 2019
Jan 31, 2019

Kolpitcke leads Team Wyo. on Chicago journey

(Story)

Jan 10, 2019

STUDENT SPOTLIGHT: Jacob Hieb

(Story)

Jan 04, 2019

ALAN MERRITT: Student of the Month

(Story)

Dec 06, 2018

CRACKING DOWN ON VAPING

(Story/Media)

Dec 06, 2018

No more pets on school grounds

(Story/Media)

Oct 19, 2018

Sports, activities log thousands of miles

(Story/Media)

Oct 04, 2018

Tips on preparing for a driver's license

(Story/Media)

May 16, 2018
Mar 23, 2018

Lady Panther soccer splits opening weekend games

(Story)

Mar 12, 2018

SPRING INTO SPRING … SPORTS!

(Story)

Feb 07, 2018

Powell's Ice Cats

(Story)

Jan 24, 2018

A conversation with Greg Wise

(Story)

Jan 17, 2018

The unsung heroes of meal time

(Story/Media)

Nov 30, 2017

Runners flock to turkey trot

(Story)

Oct 27, 2017
Oct 25, 2017
Oct 23, 2017

The life of a twin

(Story)