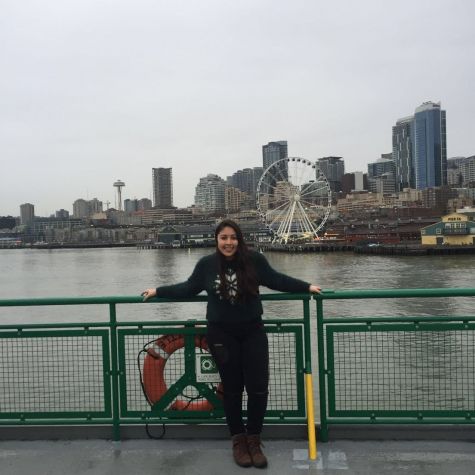 Scarlette Mendoza is in her second year of being a Prowl reporter. She is best known as "Mean Sister" and for being the leader of the infamous sixth period "Nest of Evil." She loves compliments, cheer competitions and cups of Ramen. Her aspirations in life are to become a talk show host in hopes that then maybe people will finally listen to her for once. (A girl can dream, can't she?) She loves traveling to any new places, as long as it keeps her away from her daily routine and boring small town life. Her fear of commitments and boring jobs prevent her from sometimes achieving her goals but it all works out for her in the end.
"Scarlette is the Nacho to my Libre," said senior McKenzie Thompson. "The Stephen to my science and the eagle to my powers."
"She's a constant thorn in my slightly overweight side," adds Cap.
Scarlette Mendoza, Social Media Editor
May 22, 2019
May 22, 2019

Q & A WITH RETIRING PRINCIPAL

(Media)

May 02, 2019

WHAT A LET DOWN

(Story/Media)

Mar 15, 2019

LET'S GET ROWDIE!

(Story)

Mar 01, 2019

BACKBONES OF THE SCHOOL

(Story)

Feb 12, 2019

STATCHAT: PHS sports teams have successful weekend

(Story)

Feb 04, 2019

HISPANIC-AMERICANS: Facing adversity … and dealing with it

(Story)

Jan 15, 2019

WINTER GOT YOU DOWN?

(Story/Media)

Nov 16, 2018

FRIENDSHIP BREAKUPS AND HOW TO COPE

(Story/Media)

Oct 24, 2018

Dig it, slang is everywhere

(Story)

Feb 28, 2018

The trials and tribulations … and positives … of being the youngest child

(Story)

Feb 06, 2018

Lending a helping hand

(Story/Media)

Jan 30, 2018

2018 movies: From Mary Poppins Returns to Overboard remake …

(Story)

Jan 13, 2018

RESOLVE … TO CHANGE … NOTHING?

(Story)

Nov 27, 2017

Here's your sign … and your horoscope

(Story)