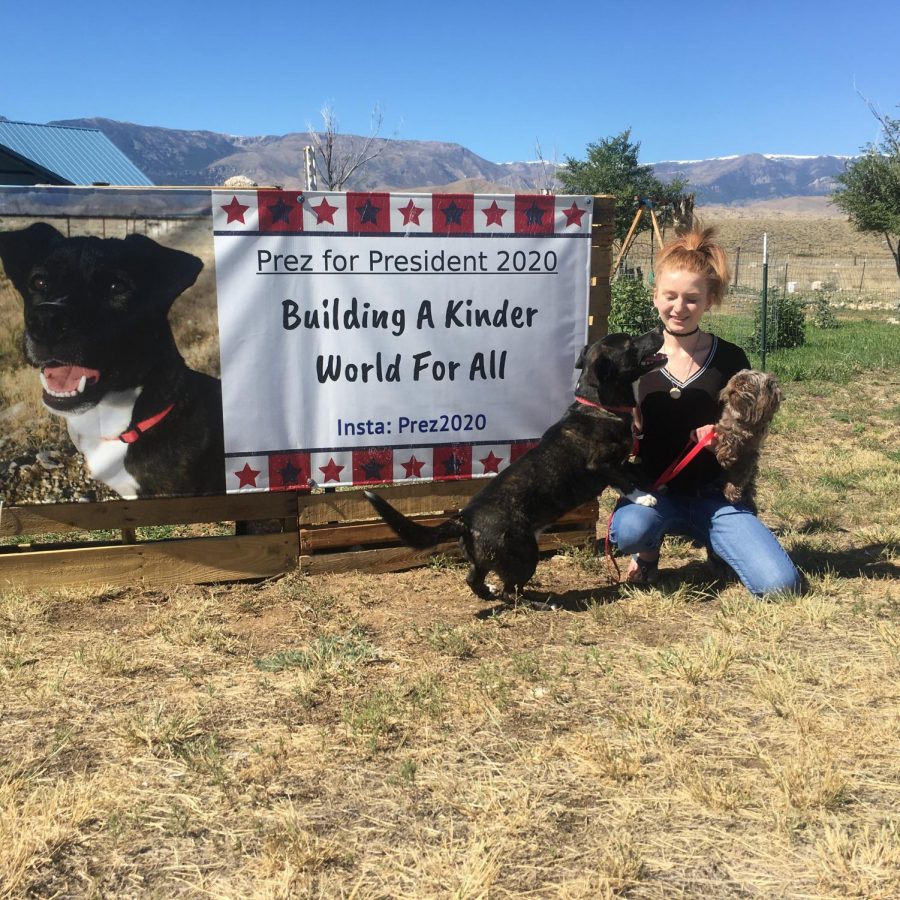 Chances are that you're reading this and thinking, "Wait, who is this girl?" Then realizing that Lucyjane Crimm is that one ginger girl you're technically aware has been at PHS for a year, but you still have no clue who she is. Lucyjane has found an unbreakable passion for journalism and the only time you will hear her talk is when she goes on about it. However, she also will talk fervently about her about her dog, Prez,
who is running for President
. PREZ FOR PRESIDENT!!! Or whatever boy she's in love with this year. 
"[LJ] has a type [of boy]," said junior Emma Bucher, in a conversation about the boy LJ's in love with this year. "And that type is ugly." 
Adds Adviser Cap: "Do not, under any circumstances, take LJ lightly. She's like a pit bull, only smaller, and nicer, and happier. She will rip your face off but apologize while she's doing it."
Lucyjane Crimm, Prowl News Editor
Jan 14, 2021

INTERNET EXPLORER

(Story/Media)

Jan 02, 2021
Dec 30, 2020

WORLD-WIDE WASTE OF TIME

(Media)

Dec 09, 2020
Dec 08, 2020

MORE THAN MEETS THE BIRD'S EYE

(Media)

Nov 19, 2020

TURKEY THANKING DAY

(Story)

Nov 16, 2020

A WORLD SANS COMIC SANS

(Media)

Nov 16, 2020
Nov 13, 2020

FREEDOM OF THE PRESS

(Story)

Nov 12, 2020

STARVING ARTISTRY

(Media)

Nov 06, 2020

TRUMP OR BIDEN? RESULT REMAINS UNDECIDED

(Media)

Nov 04, 2020

THE BABIES ARE COMING

(Media)

Oct 30, 2020

THERE'S A NEW TREND AMONG US

(Story/Media)

Oct 21, 2020
Oct 20, 2020
Oct 20, 2020

THE GOOD, THE BAD AND THE HUNGRY

(Story/Media)

Oct 13, 2020

GINGERS JUST WANT TO HAVE FUN

(Story)

Sep 23, 2020

2020: EVEN MORE (ECONOMIC) DEPRESSION?

(Story/Media)

Sep 01, 2020

THE REMIX TO IGNITION

(Story/Media)

May 27, 2020

PROWL PICK: ANNA ATKINSON

(Story)

May 08, 2020

IT'S BEEN 2 MONTHS …

(Story/Media)

Mar 30, 2020

KEEPING YOUR HEAD CLEAR

(Story/Media)

Mar 11, 2020

PROTECTING THE MOTHERLAND

(Story)

Feb 26, 2020

'RARER THAN A BLUE MOON'

(Story/Media)

Feb 13, 2020

WHAT DOES A POSITIVE LEARNING ENVIRONMENT LOOK LIKE?

(Story/Media)

Feb 03, 2020

NEW KID ON THE BLOCK

(Story)