A different perspective on The Addams Family
Role of stage manager comes with unique, memorable moments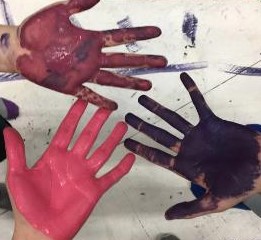 It's family first and family last and family by and by. When you're an Addams, the standards answers don't apply. When you're an Addams, you do what Addams do or die.
Move toward the darkness. Don't avoid despair. Only at our weakest, can we learn what's there.
These are lyrics from songs featured in the latest PHS musical, The Addams Family. I had the honor of a backstage pass to all rehearsals, constructions and bittersweet memories of the play.
This pass is commonly known as Stage Manager.
Mr. Bob Hunt has been the PHS theatre director for 13 years and is the man I served under.
"The stage manager is the right hand man of the director," said Hunt. "The stage manager serves as the communication link between the director and the cast and crew."
'Specifically during the show,  the stage manager is often the person calling the ques and making everything happen when it's supposed to happen," Hunt added.
From the director's perspective, the stage manager takes care of all the dirty business the director would rather not put his hands in.
From the stage manager's perspective, the previous statement is semi-accurate; try multiplying the dirty business by 1000.
I really did enjoy the experience, but it wasn't a "skipping through a meadow" type of activity.
First, the stage manager has to take notes. Yeah that's right, much like your history class. I sat in the auditorium every day writing down every instruction of the director.
Did you know a mindless action such as walking over to a couch and sitting down has to be blocked?
"
I'm not sure why, but I think there's something special about watching people in their most vulnerable moments, especially when they think you're not watching."
Then we come to the mind changes. Yes, even Mr. Hunt is entitled to change his mind, even if it's the night of the show and he just now has an epiphany about when the wall has to be moved.
But even though there were rough parts of being such an intricate part of the play, there were some really special parts as well.
One of my favorites was the set designing. Did you think your work would be over at precisely 5 o'clock on a Friday evening? Well you're wrong!
10 A.M. Saturday morning I was back on that stage working; this time, with paint!
We took about two months building the set. Each play is unique, which means each set takes a different amount of nails and paint cans.
I'm not too good with my hands, and will admit I do not know how to successfully use a drill. However, my skills do include slapping paint over wood.
As a result of the distance between the set and the audience, most of the paint did not have to be at a Picasso level. Oh yes, this I could work with.
We also had to paint the floors of the set, and this had to more specific because of the theme the Addams set had to match.
Then came the performance. This night was tied to intense feelings of stress and excitement. Excitement because in a few short hours I would be back on a stage, pretending to be someone I'm not. But stress just the same, because while I wasn't dancing, I had to ensure nothing we did made Hunt feel even more stress.
Then came the "before the show" traditions, which were my favorite part of the whole experience.
I'm not sure why, but I think there's something special about watching people in their most vulnerable moments, especially when they think you're not watching.
This  to the frustration of a costume malfunction, to the specificity of stage makeup.
Have you ever watched a girl put on her makeup?  Or had to help someone apply more black to their mustache?
It's such a neat experience. Watching a person stick their tongue ever so slightly to the left when they're in a deep focus. Or seeing out of the corner of your eye, a close friend smiling down at you when you're trying so hard to not dot their upper lip with liquid eyeliner.
We prayed each night. Every member of that beautiful cast came together for a single moment; one in their faith. We prayed for a good audience, for a strong show; to remind each ancestor and family member that God is with us always; in our mistakes, and in our moments of glory.
This was my absolute favorite moment of the entire two days.
There's something special about the people you spend over two months with. Yes, there were parts of people I saw that I wish I could un-see, but there were also raw, sensitive sides of people I was able to witness. I hope I never un-see them.
And I hope you are presented with the opportunity to be a part of an eye-opening experience. Just. Like. I was.
View Comments (2)