DON'T HATE IT, JUST DEBATE IT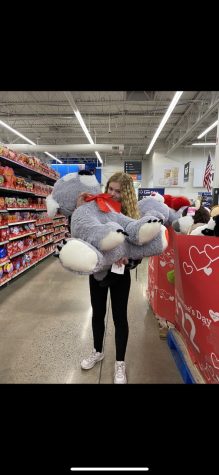 More stories from Sophie Czirr
After a considerable amount of preparation, speech and debate is back and ready for their first tournament. The team supported and encouraged each other throughout their events, resulting in a successful tournament outcome.  
"The tournament went really well," sophomore Maggie Atkinson said. "We had quite a few novices who all placed very well, and we placed first overall. All of our novices either placed first or second in all of their events."  
 Although the team was nervous, they were still able to give a notable performance and do well in each of their events. The team expressed their appreciation and gratitude for their teammate's reinforcement.  
 "I personally was very nervous," sophomore Kendal Eden said. "But the whole team was very supportive and helped each other."  
Mrs. Maier Reitz is the speech and debate coach who attended the speech and debate tournaments this weekend.    
"From Oct. to Dec. 31 we have tournaments that are for the novice members of the team," speech and debate coach Maier Reitz said. "The tournaments are low stress and give new competitors a chance to see what speech and Debate all is about.  Starting January 1st everyone is varsity. We will be attending two-day tournaments on Fridays and Saturdays."  
Those who did not compete were able to participate in judging. This was some new exposure for a few of the team members to be able to participate in.  
 "I did not compete, but I did judge a few rounds," Atkinson said. "It was a new experience for me and some of our competitors who could not compete in this tournament. It was fun to judge different events that I personally don't participate in."   
There are several events where the team can participate in speech and debate tournaments. This gives the members opportunities to experience new types of competition and a selection from a variety of events.  
"There are 12 events that students can sign up for," MaierReitz said. "We have 3 types of debates. The Lincoln Douglas, Public Forum, and CrossX. There are Congress, Oratory, Informative, Extemporaneous, and then interpretive events Humor, Poetry, POI, Drama and Duo. Students can double enter depending on what they choose."  
  The tournament gave a chance for the team to encourage each other, and it presented an opportunity for the novices to see what a tournament looks like and how it works. It also gave the members a chance to talk with other speech and debate teams and meet new people.  
  "I think that the tournament was a success," Eden said. "It was kind of nerve wracking, but it was really fun to meet new people."   
 This tournament was important especially because of the delay that COVID 19 caused. Due to the pandemic, the team was restricted to certain things.  
 "Most tournaments for this season are in person," MaierReitz said. "When everything shut down due to COVID, we were on our way to the state tournament.  We were about an hour away from Rock Springs and got the call to turn around. We spent 10 hours on the bus that day.  The state Tournament and Natquals were online. The 2020-2021 season was entirely online." 
There were a few roadblocks including the pandemic, and nerves from new members. But this didn't stop the team from having a triumphant tournament.  
 "It's like any other sport," Atkinson said. "When you get into the ring or when you get on the court or field, you get this rush where you are just having so much fun. That is how I feel with debate, I will get into it and I am just extremely excited to see how it goes. Even If I lose, I am still having fun."  
Overall, the team expressed the encouragement and support they felt from their teammates, and the great experiences they had.  
 "We had a great tournament on Saturday," MaierReitz said. "Many of our varsity team members attended to support the novices. The varsity members also judged and helped run the tables. It was great to see the support our varsity members gave the new members. That is truly what makes this team so special."  
Leave a Comment