STATCHAT: SATURDAY SUCCESSES
PHS track and soccer teams continue to improve
Hang on for a minute...we're trying to find some more stories you might like.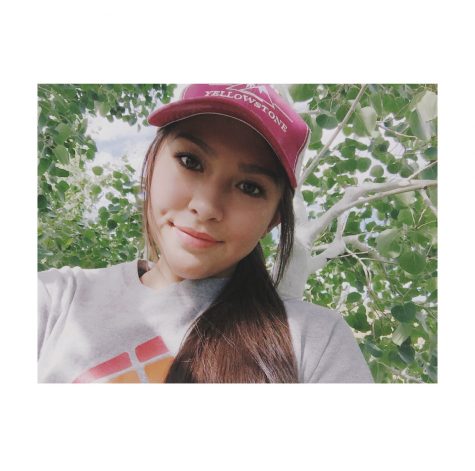 More stories from Rachel Kuntz
Powell High School hosted the L.A. Kohnke Invitational, where seven other teams competed and the soccer teams competed in Douglas over the weekend.
LADY PANTHER TRACK
Powell racked up 203.5 points, placing first above second-place Tongue River (83 points) and third-place Worland (73 points).
I feel like it was a good day for me. It started out good with the triple jump; I'd never done that before," junior Sabrina Shoopman said. "She (Coach Ashley Hildebrand) threw me in that two days earlier, so that was new."
Shoopman placed first in all her events, which were the triple jump, 100-meter hurdles, 300-meter hurdles and the 4×400-meter relay with senior Caitlyn Miner, sophomore Emma Karhu and freshman Abigail Urbach.
"I like when it's warm; I feel like I don't have to be as warmed up, so that's easier for a lot of athletes to just jump right into their event, jump around a little bit and not feel like they have to constantly be moving when it's cold," Shoopman said. "But definitely for the 4×400; the wind picked up so I think that's something that pushes me to push harder in the wind."
Shoopman added: "My form on hurdles slowed me down. Sometimes you miss a step or you land on your foot funny and I don't think any of those were something I'd call a perfect race, but it was well enough to get first."
PANTHER TRACK
The Panthers earned a total of 244.5 points, with the Worland Warriors placing second with 80 points and Burlington Huskies in third with 79 points.
"The meet overall went very well the weather was perfect for running," senior Jayden Yates said. "I ran the mile and the 4×800-meter relay. Our relay team took first place and I ran a 4:47 mile time and took second place."
Although the weather wasn't ideal, Yates adapted, later placing second in the 1,600-meter run and first in the 4×800-meter relay with sophomore Tyler Pfeifer, sophomore Joey Hernandez and freshman Ethan Bartholomew.
"The weather cooperated pretty well for most of the day, but it got windy towards the end of the meet," Yates said, "The conditions didn't really affect how I ran at the meet. During my races, especially in the mile, I slowed down during the third lap mainly because I was feeling exhausted. And next time I need to keep my pace the same for all four laps in order to get faster. I'm preparing for the next meet by working hard in every practice and resting when I need to so I can be mentally and physically ready."
Click here to see the results: https://wy.milesplit.com/meets/349409/results/638571/raw#.XKykm7qcFrQ
LADY PANTHER SOCCER
The Lady Panthers traveled to Douglas to face on the Lady Bearcats, falling short with the final score of 1-0 and the JV lost 3-1.
"I think strong points would be getting to the ball first and attacking and a weakness would be running a little slower than usual due to my legs," sophomore Payton Asher said. "The team talked well with each other, but we got called with a lot of fouls for playing too rough. There's always something to work on, [like] more communication and learning more about individual players."
Although the Lady Panthers came up short, they will strive to improve for the upcoming games.
"The game wasn't bad, was not how we wanted it to be, but I think we learned a lot about each other," Asher said.
PANTHER SOCCER
The Panthers prevailed against the Douglas Bearcats, winning 2-1 on Saturday and JV victorious 5-0.
"My touches were a strong point; they were a lot better than the games before but scoring was a weak point. I took a lot of shots, but I didn't score. We moved the ball around really well, and we outshot them by a lot. It was really windy, so it was hard to score but our defense held the [Bearcats]."
Despite the wind straying their shots, Powell outplayed Douglas and came out on top.
"I think we could've won by more because they weren't that great but a win's a win."
Next up for both the Panthers and Lady Panthers is a home game against Riverton April 15.