SANDERS, SULLIVAN & SCHULER
Students of the month for March, April, May have big dreams
Student of the Month is a tradition Powell High School has honored for years, awarding students based on hard work and teacher recommendations.
March: Sierra Sanders
With winter long gone and spring officially here, now-graduated senior Sierra Sanders had some spring plans of the own. She was awarded this year's March student of the month.
"It felt great," Sanders said. "It was really nice to know all the effort I put into my school work and what I did at Powell High School paid off."
Sanders spent most of her time with the panthers as a varsity tennis player.
"Sierra works very hard at whatever she is doing," said tennis coach Mr. Brandon Preator. "She is dedicated, and she has a great sense of humor which gives her balance. She made everyone feel important and a part of the team. Sierra's great personality brought the whole team together, and she inspired others with her determination and grit when playing tennis."
Along with tennis, Sanders also was a member of Student Council.
"Sierra was both a great student and solid contributor to student council," Student Council sponsor Mr. Nick Fulton said. "Sierra is very diligent and hard working. Sierra brings a dedication to all of the tasks that she undertakes, which made her invaluable to Student Council and an extremely successful student."
The four years of high school can be used to build bonds with classmates and teachers.
"Pretty much all my teachers … would challenge me as a student and not just give me easy assignments," Sanders said. "My counselor Mrs. [Kara] Miller was also so encouraging."
Sanders will pursue her education at the University of the Wyoming in the fall and will have lots of memories to look back on.
"All the seniors in my English 20/20 class were upset we didn't get Congratulations by Post Malone as our class song so Mr. Hunt read through the lyrics and found poetic devices which cracked us up."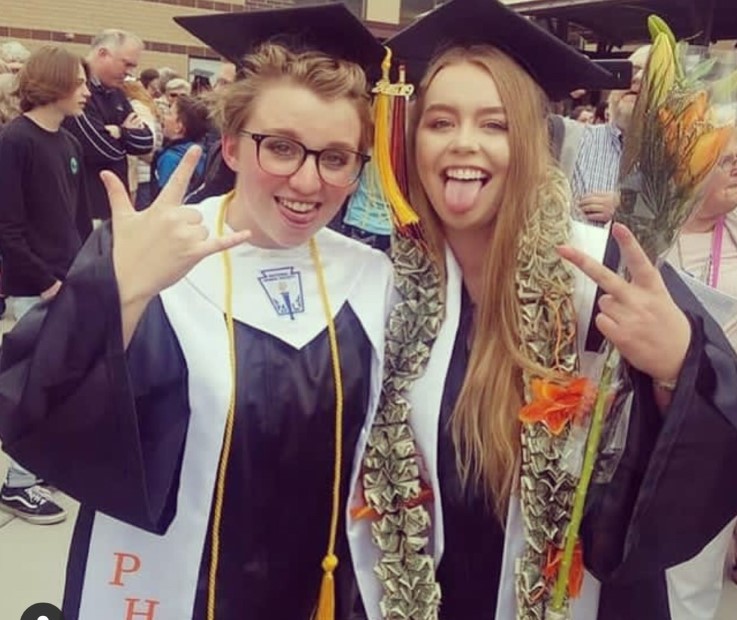 April: Lucy Sullivan
As Powell High School grew closer to the end of the school year, senior Lucy Sullivan's hard work paid  off as she's awarded April's Student of the Month.
With schoolwork, college classes, theatre, speech and debate, band, soccer, tutoring sessions and maintaining a social life, Sullivan has a lot on her hands, but a very bright future in her mind.
"Lucy was one of my top LD debaters," former Speech and Debate sponsor Mrs. Michelle Bills said. "She was probably one of the upperclassmen that I could trust the most, and she wasn't one of my officers; however she should have been.
"I think her dedication and her drive exceeds what a speech and debate student should have … just an overall great student. I never had to worry about her grades or anything. Her dedication to task was 'I'm a student first and then forensics and speech second.'"
One teammate also had high praise for Sullivan.
"Lucy is really humble about her accomplishments and her intelligence, but let me tell you that she is SMART and has done some really great things," senior Shaelynn Theriault said.
"She has a great personality and if you heard her valedictorian speech you'd know she cracks jokes."
Sullivan earned the title of co-valedictorian (a first in Powell High School's history), alongside Allen Merritt, October's Student of the Month.
"It is very gratifying to be acknowledged by the school for the work I've done," Sullivan said. "Earning student of the month is high praise that I'm grateful to receive. Also the parking spot is super nice."
As Sullivan goes on to tackle the next obstacle she leaves a lasting impression on her friends.
"I think that Lucy is going to do some pretty crazy things in biochemical engineering," Theriault said. "She's probably going to cure diseases and make bank."
Aside from working on academics and speech and debate Sullivan also enjoyed electives.
"I loved math and science classes the most, but my best memories are from theater,' Sullivan said. "I use a planner to keep track of what I have to do. It helps me remember stuff in my old age."
May: Brylee Schuler
Senior Brylee Schuler was was the final Student of the Month winner this school year.
"It felt pretty good knowing that one of my teachers thought I was a good enough student to recommend me," Schuler said.
Schuler not only had classmates to help along her high school journey.
"Mr. Gilman, Mrs. Thiel, and Mr. Fulton definitely shaped me into the student I am," Schuler said. "My favorite story is when Mr. Fulton facetimed the class up on the projector because he wasn't there to review for the test with us, it was super funny."
Seniors have experienced and know the laws of the lands and now they impart their wisdom on the underclassman.
"Work hard and care about your grades, but make sure to take a break sometimes and cut yourself some slack," Schuler said. "Sometimes an 'A' isn't worth the stress."
But Schuler also was nostalgic as graduation approached.
"I'm gonna miss all my underclassmen friends," Schuler said.
Schuler was involved with several programs such as art.
"She is dedicated to her work she always puts in 100 percent on everything she works on," Mr. Jim Gillman said. "She's always willing to go back and re-work areas that don't meet her expectations. This is a skill that surely will help her be successful in life."