JUST ADD WATER
Junior Emma Karhu won championship title in 1 meter diving, 4A team Green River will move down to 3A in swimming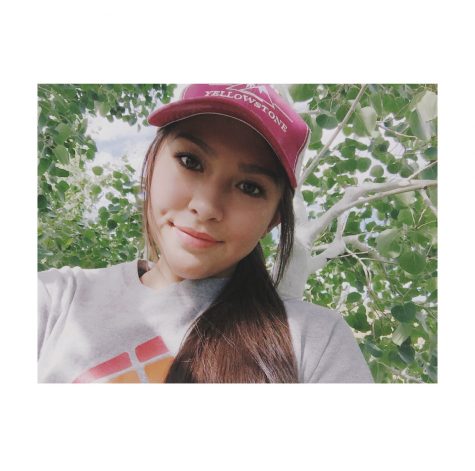 More stories from Rachel Kuntz
The Lady Panther swim team placed fourth place at 3A Girls State Swimming in Gillette Nov. 7-8.
Lander, which scored 274 points, won their fourth straight title, followed by Buffalo (206), Lyman (173) and Powell (162).
Although there were various hardships during the meet, one of the highlights was junior Emma Karhu winning the championship title in 11 dives with 383.85 points. Karhu scored 69 points better than her personal record, which puts her fourth on the Powell Wall of Fame. Karhu is the first Lady Panther to win the title since 2002. Karhu is also second place on the board for 6 dives.
"We had some personal bests, and although some performed better, [others] didn't perform their best; we had a good meet with a few [mistakes]," Karhu said. "But we did well overall even if it didn't turn out how we had planned. [One of our] relays disqualified, and it's OK because we still had a good meet."
Although PHS didn't perform as well as they hoped, they looked back on placing on the Wall of Fame, repeatedly beating their No. 1 rival, the Lander Lady Tiger,s and winning the 3A West Conference meet and the Pinedale Invitational.
Other highlights include Assistant Coach Heather Christensen, who was awarded the 3A Assistant Coach of the Year, for the second time.
This year held the biggest number of swimmers, with 32 athletes competing on the team. From this, the Lady Panthers were able to have 20 state qualifiers and have five athletes with Wall of Fame titles in multiple events.
Sophomore Sydney Legler achieved multiple personal records in her events, including her ninth place finish in the 200-yard freestyle, 100 butterfly and as the anchor on the 400 freestyle relay.
"I think I did really well, except for [disqualifying] the relay team," she said. "We had some good individual performances, but as a whole, we weren't doing super well."
Legler is a new PHS student, who originally moved here from Maryland and competed on her previous high school's swim team.
"The difference in training between what I used to do in Maryland and what I do here," Legler said. "The type of training Coach Bob does made me a lot faster. I did a lot better this season than I thought I was going to."
A new surprise to shake the 3A division is that Green River High School will be dropping down to 3A.
"[Green River] will be a prohibitive favorite to win 3A," Head Coach Bob Smartt said.
"However, a return to the team podium (top three team) is a very achievable goal for the Panthers,"
State meet results include:
200 Medley Relay –
Sixth place: Sidney O'Brien, Anna Fuller, Lucia Harder and Maddy Lowery – 1:58.96
200 Freestyle –
Third place: Elizabeth Liggett – 2:03.11
Seventh place: Addy Moretti – 2:09.83
Ninth place: Sydney Legler – 2:12.78
200 Individual Medley –
Fourth place: Anna Fuller – 2:25.88
Eleventh place: Ashlyn Aguirre – 2:31.72
50 Freestyle –
Tenth place: Maddy Lowery – 26.43
Twelfth place: Sidney O'Brien – 26.32
1 Meter Diving –
First place: Emma Karhu – 383.85
Fifth place: Kami Jensen – 287.35
Eighth place: Maddi Hackenberg – 245.15
100 Butterfly –
Sixth place: Lucia Harder – 1:04.13
Twelfth place: Rachel Kuntz –  1:08.23
100 Freestyle –
Ninth place: Maddy Lowery – 59.27
500 Freestyle –
Third place: Elizabeth Liggett – 5:40.27
Fifth place: Anna Fuller – 5:49.64
Seventh place: Addy Moretti – 5:55.83
200 Yard Freestyle –
Fifth place: Lucia Harder, Maddy Lowery, Addy Moretti and Elizabeth Liggett – 1:46.69
100 Yard Backstroke –
Twelfth place: Sidney O'Brien -1:07.45
400 Freestyle Relay –
Elizabeth Liggett, Anna Fuller, Sydney Legler and Addy Moretti – DQ
50 Yard Freestyle –
First place: SarahGrace Miller – 39.67
For more results, go to wyopreps.com