SWIM IT 'TIL YOU WIN IT
PHS junior breaks 3A West conference time, qualifies for four state events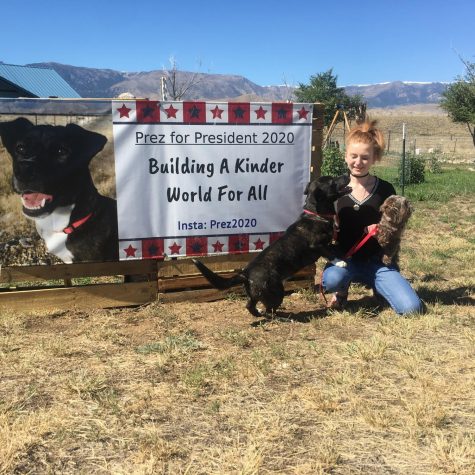 More stories from Lucyjane Crimm
While some may choose to play sports for the social aspect and others for a fondness of the game, most student athletes will agree that there's no feeling like winning after putting in a lot of time and determination.
PHS junior Nate Johnston showed just that kind of determination when breaking the boys' swimming 3A West conference record time for the 100 breaststroke.
"It means quite a lot because I'm trying to see how far I can get with it while I'm in high school and seeing that my times are getting that low this quickly… just makes me feel really good and confident," Johnston said. "It felt really cool because it's one of my rival's times and I've been trying to beat him for years so it was pretty cool knowing that I beat [it]."
Johnston has been competing in swimming since he was 10 years old, and now seven years later, he's a state qualifier in the four events he swims in. At the meet on Feb. 6, Johnston swam breaststroke portion of the 200 medley relay, swam the 200 individual medley, anchored the 400 free relay and broke the 3A West Conference record in the 100 breaststroke with a time of 1:00.66.
"Nate is one of the most dedicated athletes that I have ever coached, hard working and inspiring," PHS boys' swim co-coach Jerry Rodriguez said. "He takes every opportunity, in practice, to work as hard as he can. When [he's] not swimming high school season, he is one of a handful of swimmers who train year round via the USA (Piranhas) swim team. He is the first in a while to qualify for the USA Swimming Sectional meet."
Along with his hard work and year round preparation, Johnston has found a few tricks to help him get prepared before a big meet. 
"I tried to find some music that could get me hyped up and I just tried to get in the zone as much as I could while trying to cheer on my teammates," Johnston said. "One of the artists I like to listen to is Jaron. He isn't too well known, but his music really helps me get in the zone and get prepared for the race."
When competing in the Feb. 19-20 3A boys' swimming state championship, Johnston placed 5th in the 200 IM, the 200 medley relay and the 400 free relay and was 3A state champion in the 100 breaststroke.