CLEARING HURDLES
Students are bringing the Fellowship of Christian Athletes club back to PHS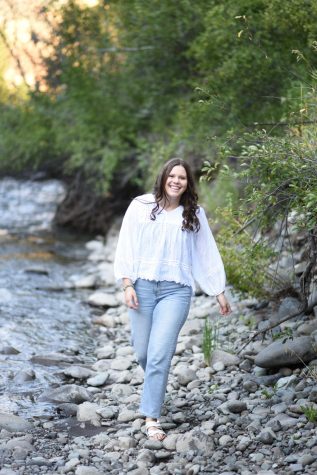 More stories from Gabby Paterson
After disappearing for seven years, the Fellowship of Christian Athletes is making a slow but sure return to Powell High School.
"The main reason [we stopped FCA] was lack of students to lead," PHS Math teacher and soccer coach Mr. Russ Schwahn said. "Because this group must be student-led and student-initiated, we had to stop when there weren't leaders."
Now, PHS sophomores Anna Bartholomew and Chase Anderson have dedicated their time and energy to bring FCA back into the lives of their fellow students. This idea sparked when an FCA leader spoke at several youth groups in Powell and inspired the pair to take action at PHS.
"We want to get it started because it's a great opportunity for fellow Christian athletes to have fellowship with each other and just get together and have … fun," Bartholomew said. "And also grow in our faith in Christ."
Since 1954, FCA's mission has been to unite Christain athletes and coaches and lead them into a growing relationship with Jesus Christ and His church. According to fca.org, the organization focuses on four main values: integrity, serving, teamwork and excellence. It provides opportunities for students, regardless of whether they are involved in athletics, to share their faith and come together to talk about daily struggles.
Although this club is primarily student led, there are two teachers who have offered their time to advise and assist students who are interested. Physical Education teacher Mrs. Charli Fluty and Mr. Schwahn will both step into hands-off guidance roles. In high school, Mrs. Fluty participated in FCA, and it offered a sense of peace to her in the craziness of high school.
"
I hope that FCA will be a way for students to come back to center, look at the big picture and focus on what is really important.
— Physical Education teacher Mrs. Charli Fluty
"Personally, FCA always helped me to stay focused on what was important," Mrs. Fluty said. "I hope that FCA will be a way for students to come back to center, look at the big picture and focus on what is really important."
The process of starting a club is not a simple task, especially when the club resides in religious territory. All clubs involving religion have strict guidelines in order to maintain the separation of church and state. This is a major struggle because it prohibits the club from being able to meet during school hours.
Another factor of FCA that creates a challenge is having enough committed students willing to take a leadership role. 
"Finding leaders who are called to serve sometimes is not an easy process. Just saying that we're going to start an FCA huddle isn't enough," Mr. Schwahn said. "The leaders must understand what it means to lead a huddle, how to put this into action and they must understand and agree with the statement of faith that the Fellowship of Christian Athletes was founded on. Even though the process of getting FCA rolling has been frustrating and time-consuming, the idea has interested many students at Powell High School."
"Starting a new club. . . is really a long process," Bartholomew added. "We don't have an exact number, but we've asked around, and it seems like there are quite a few people interested from all grade levels."
The plan, as of now, is to attempt to meet once or twice a month at a time that is convenient for the students. But there is still a need for more leaders who are willing to devote time and effort to the club.
"We have a couple of awesome leaders who are ready to get this going, but they will need help," Mrs. Fluty said. "We will need more than just two who are willing to take a leadership role, so anyone who is interested should reach out and help get things started."
Leave a Comment