BETTER WITH AGE
Lady Panther swim coach Bob Smartt finishes first in the World Championship AquaBike event.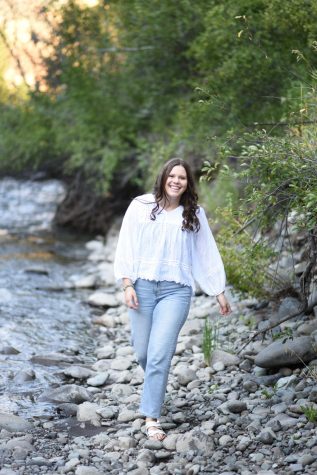 More stories from Gabby Paterson
As age creeps up on us, participating in a world championship would be the last thing on our minds. Well, that stereotype was proven wrong when Powell Lady Panther swimming coach Robert Smartt, 67, competed in the World Championship AquaBike race in Almere, Netherlands. Smartt placed first in his age group with a time of 6:04.00. 
The world AquaBike championship is composed of a 2.4 mile open water lake swim and 112 mile bike ride. For the swim, all contestants wore a timing chip around their ankle and a wetsuit due to the 68 degree water temperature. 
Although the water was cold and Smartt took a slight detour off the course, he still managed to rank 20th overall in the swimming event with a time of 1:01.10.
"I was very pleased with my swim," Smartt said. "Except at one point [in the race] making a turn, I swam off-course, and it took me about a minute to get reoriented and back on course. It was disconcerting at the time to look up and not see anyone."
Between the swimming and the biking portions of the race, there is a transition period for the competitors to change out of their wetsuits and into their bicycle clothes. 
"I am lousy at transitions," Smartt said. "That part of the race took me over five minutes to run from the water to a changing tent, get out of my wet suit and into bicycle clothes, run to my bike, and then run with the bike to the beginning of the bike course."
The bike course consisted of two 56 mile laps that challenged the competitors both physically and mentally. Smartt was able to achieve a time of 4:47.00, and cycling an average of 22.5 miles per hour. 
"The bike ride was a big challenge for me," Smartt said. "I had never before been on a bike race longer than 85 miles, [but] I was feeling good and was able to 'negative split,' riding the second lap faster than the first. 
Going to these competitions allows Smartt to connect with other like-minded athletes from around the world and feel the adrenaline rush of a competition. 
"
A good race gives me the feeling of being fully and truly alive. At age 67, those do not come as often.
— Bob Smartt
Smartt began training in January, but ten weeks before the race he dialed it in. He would average roughly 200 miles per week of biking, and 10,000-15,000 yards of swimming. He did this training in addition to coaching the girls swim team. 
"It shows his dedication isn't limited to swimming," English teacher and assistant swim coach Ms. Bailey Jackson said. "Place a problem or a topic in front of him, and he will go after it ferociously. The amount of time and attention he gives his goals is admirable."
Leave a Comment