HE'S A WASHINGTON MAN
PHS junior becomes a Senate Page and is traveling to Washington D.C.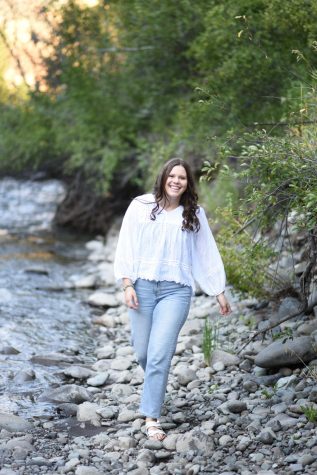 More stories from Gabby Paterson
High school. It's supposed to be some of the best years of our lives and maybe some of the worst. Why would someone want to uproot themselves from their fun, somewhat careless teenage life? 
Junior Owen Fink wants to do just this. Learning from experience and in a totally new and different environment sounds significantly more appealing than continuing to live a normal high school kid's life. Fink will be participating in the Senate Page program which will allow him to escape the mundane high school cycle and allow him to live a totally different lifestyle. 
The Senate Page program provides an opportunity for juniors and seniors in high school across the nation to participate in the U.S. Senate. The Senate Pages' purpose is to assist the senators; they perform duties such as delivering messages, correspondence and legislative material and preparing the chamber for Senate sessions. 
"[The program provides] the opportunity to live, learn, and work in a new area while facing new challenges and experience a new culture," Fink said. "I look forward to reinvigorating my education after thirteen years of basic schooling and educational monotony. And, I look forward to earning recommendations from senators, employers, and teachers."
The Senate Page program is rather prestigious and in other states, the program is extremely competitive if you do not have well-connected relatives. However, in Wyoming, the Senate Page program relies not on what your last name is, but on your academics, involvement in your community and extracurricular activities.
"
I look forward to reinvigorating my education after thirteen years of basic schooling and educational monotony. And I look forward to earning recommendations from senators, employers, and teachers.
— Owen Fink
"I think it is a tremendous opportunity; in most states, students don't really have a chance at it unless your parents have lots of money or are politically connected," art teacher Mr. James Gilman said. "In Wyoming it doesn't work like that. If you meet the qualifications and apply for it then you have a really good chance of getting into it. Owen is a hard worker, dedicated, and works well under pressure. He's a smart kid." 
Fink demonstrates a vast array of qualifications for the Senate Page Program and also displays strong characteristics that made him a top candidate.
"I've always been impressed with Owen's work ethic," Mr. Vin Cappiello, phsprowl.com founding adviser and current cross-utilized supervisor for SkyWest Airlines in St. George, UT said. "He is so articulate and well-mannered, not to mention he is one of the most humble and unselfish young men I know. If anyone deserves this honor and opportunity, it's Owen."
Throughout his high school career, Fink has demonstrated leadership both inside and outside the classroom, and will bring those qualities to his work in the nation's Capital. 
"Owen is a model student," science teacher Mrs. Kaitlin Loeffen said. "He demonstrates academic success and leadership, both of which will play into his new role this semester. This opportunity will have a lasting impact on Owen and serve him for a future job in the field or something that requires the dedication and attentiveness he will show through being a page."
Although Fink is immensely excited for this life changing opportunity, his excitement is joined by a sense of nervousness.
"The best way that I can describe… living in Washington D.C. is a culture shock," Fink said. "I will ultimately be experiencing a new lifestyle while also expected to uphold some of the highest standards in the nation at the Capital. Not to mention the eyes of the nation and influential people inspecting my every move."
While he is in Washington D.C., Fink will be living in The Daniel Webster Senate Page Residence Hall and will be attending school in the early morning and then will work at the congressional complex. 
"My living accommodations are simple as I will be boarding with six other pages. I will have access to a library, kitchen, and exercise facility," Fink said. "I will attend classes in the early morning at the United States Senate Page School, and I will have the opportunity to attend core classes including Physics, Pre-Calculus, English Composition, and American History."
Although Fink has to pick himself up and leave halfway through his junior year, he is hopeful and optimistic for all this opportunity will bring him.
"I will regret losing the opportunity to share the experiences of my Junior year with friends and family," Fink said. "However, the opportunity to live and work in the heart of American democracy is not something to take lightly, and given the many benefits I will obtain, the decision seemed obvious."
Fink plans to gain knowledge and experience from being involved in the Senate and is looking forward to discovering all the capital has to offer. 
"I believe our political system could use a good dose of honesty and integrity, which is what Owen brings to the table," Mr. Cappiello said. "His eyes are going to be wide open for a spell, but he will adjust and make his mark. The great ones always do."
Leave a Comment