IF THEY DON'T DO IT, WHO WILL?
A Reflection on the Local Powell Firefighter Volunteer Unit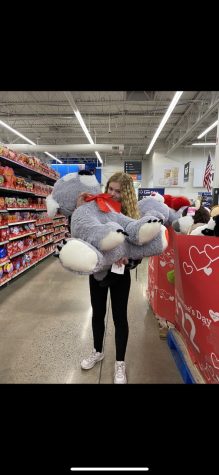 More stories from Sophie Czirr
One of the greatest blessings to the community might be taken for granted. The local Powell firefighters volunteer to dedicate their time and service to help the community. They provide a sense of safety and protection for the town. 
"I appreciate the firefighters because they provide one of the most important roles in our community," senior Simon Shoopman said. "They are good people who work hard to keep us safe." 
These firefighters are ready and willing to help at a minute's notice. They volunteer to assist and defend the community to make it a significantly better place. 
"I appreciate our firefighters because they're all volunteers so they're not getting paid to do what they do," senior Ryan Cordes said. "Whenever something goes wrong in the farming community my stepdad has to call them for things like burning ditches, so I appreciate what they do and the fact that they are always out there helping when they don't have to." 
"
I am surprised that they don't get a lot of appreciation because had they not shown up as quickly and been so professional, I would have lost my home. Maybe people don't really appreciate them until they are needed."
— Kriss Hunters
Kriss Hunters is a resident of Powell whose house caught on fire on Sunday, April 24th. She shared her story and expressed her appreciation for the assistance and care the firefighters provided her. 
"Back in April I came home to a strange sound and then realized it was my smoke detectors," Kriss Hunters said. "I had a fire upstairs and immediately called 911. The firefighters were here so quickly and put the fire out. Had they not come so quickly I probably would've lost my home." 
Many people in the community have experienced the need for firefighters, and they are grateful for the quick and efficient assistance that the firefighters supply. 
"When I worked for my step-dad on this farm, me and my friends actually accidentally let a fire get too big and we had to call the firefighters," Cordes said. "They came and helped us and I really appreciate that." 
These firefighters have impacted these people by saving them from fire-oriented conditions. Still, they have also inspired them by demonstrating their courage and dedication to the community which serves as an inspiration to everyone. 
"They create a safe and secure environment for our community," Shoopman said. "They have shown me bravery and courage. This has led me to believe that I can do the same for my community one day."
Many people have compassion and empathy for those who serve as volunteer firefighters. They value the significance of what they do and they work diligently to provide the safety that we receive. 
"My husband is a fire chief and his father is the oldest firefighter in Wyoming, and we have been all about firefighting and the department," health teacher Mrs. Kandi Bennett said. "So I understand that they take what they do very seriously." 
The Powell fire department goes through so much danger to keep the community safe. At times these brave actions can be taken for granted, and their help isn't as noticed as it should be. 
"I am surprised that they don't get a lot of appreciation because had they not shown up as quickly and been so professional, I would have lost my home," Hunters said. "Maybe people don't really appreciate them until they are needed." 
Leave a Comment