BATTLE OF THE CANS
PHS' annual food drive sparks fierce competition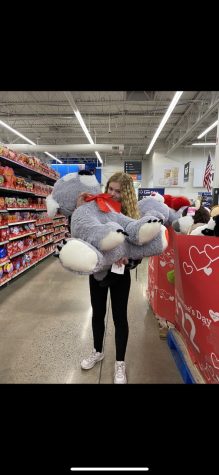 More stories from Sophie Czirr
We've had football, volleyball, basketball and so much more, but almost nothing can compare to this year's canned food drive competition. Powell High School's Student Council and National Honor Society (NHS) put on the canned food drive which ignited an unprecedented inter-classroom battle 
Although most classes contributed to the competition, English and history teacher Mrs. Tracy McArthur and Spanish teacher Mr. Brandon Preator took the competition to new heights. The history of competition between these two teachers was enough to set this race into motion, ultimately ending with Mr. Preator claiming the victory. 
"Me and Mrs. McArthur have a long standing feud or friendly competition streak when it comes to fundraising," Mr. Preator said. "She always wins, and I've never won. Once it got heated, I was determined to be the victor this time, which I was." 
Accusations were thrown that people stole cans from fellow contestants, upsetting others who were involved in the competition. Some students questioned how Mr. Preator received his cans. They believed that the cans were acquired unfairly and gave him an advantage. 
"Mr. Preator kept trying to get in my room," Mrs. McArthur said. "I actually had to move my cans from the doorway to behind my desk because he was trying to steal from mine as well. I had to move my donations to a more secure location." 
Regardless of how the food was attained, students believed that the main objective of donating these cans was achieved. In the end, all that mattered was helping the less fortunate.
"I do think some cans were obtained unfairly," junior Keagan Hicswa said. "However, they benefited the people in need, which was the ultimate goal." 
Additional students thought that because no rules were set on how they obtained their cans  that all of their cans were gathered fairly. 
"I think the way we got the cans was justified," sophomore Emily Orr said. "All the cans were going to the same place." 
Despite who claimed the victory for this food drive, no one can deny the great success and great experience everyone had. Rallying together to gather the most food for their first period class, PHS students provided assistance to the local Loaves and Fishes.
"In the end, the students led most of the events leading up to my class's victory," Preator said. "I wasn't confident at first, but then I saw the kids rally and work together to achieve victory. In the end Loaves and Fishes won. The starving children were my motivation." 
During the spring semester, another canned food drive will take place. Teachers and students alike are already beginning preparations for the upcoming competition and are seeking to come out on top. 
"Anytime we can help the less fortunate in our community is a good thing," Mrs. McArthur said. "I wasn't aware there was going to be a round two, but I'll be ready and I'll start preparing now."
Leave a Comment