SOUP OF THE MONTH
February's soup of the month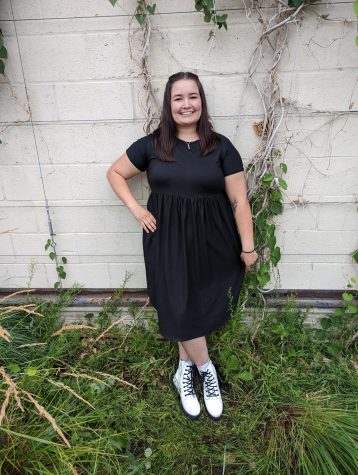 More stories from Josie Griffin
As we head into more frigid weather, there seems to be nothing better than coming inside to a nice, hot bowl of soup. But alas, soup does not magically appear in the kitchen simply because it is cold outside. 
For when you don't want to spend hours cooking, try this easy black bean soup recipe. This recipe takes a mere 35 minutes to make, and is packed with flavor. Black bean soup is gluten and dairy free, and it can be made vegan friendly with a few simple changes. 
To make the vegan option, swap the chicken stock for a veggie stock, use a veggie sausage and skip the sour cream.
"It is hearty and healthy," journalism adviser Mrs. Amy Moore said. "The sausage adds a really nice flavor."
This recipe was developed by The Modern Proper and will make roughly six servings.
Ingredients:
2 Tbsp extra virgin olive oil

1 small red onion, diced

4 cloves garlic, minced

1 red bell peppers, diced

1 green bell pepper, diced

4 cups chicken stock

3 (15 oz) cans black beans, rinsed and drained

2 tsp ground cumin

2 tsp garlic powder

2 tsp dried oregano

1 Tbsp chili powder

1 tsp kosher salt

½ tsp freshly ground pepper

1 lb smoked sausage, (fully cooked) cut in 1-inch slices

Cilantro, optional

Sour cream, optional

minced red onion, optional
Method:
Heat oil in a large pot set over medium-high heat. Add the onion and cook, stirring often until beginning to soften, about 4 minutes.

Add the garlic and bell peppers and cook, stirring often, until the garlic is fragrant and bell peppers begin to soften, about 2-3 more minutes longer.

Add the chicken stock, black beans, cumin, garlic powder, oregano, chili powder, salt and pepper. Turn the heat to high and bring to a boil. Once boiling, reduce the heat back down to medium-low and simmer for 10-15 minutes.

Using an immersion blender or stand blender, blend 1/3 of the soup. This step creates a thick, creamy texture to the soup.

Add the sausage to the soup and cook until the sausage is heated through.

Serve the soup topped with cilantro, sour cream and extra onion, if desired.
Leave a Comment