POINTING THE WAY
PHS has new varsity basketball, volleyball coaches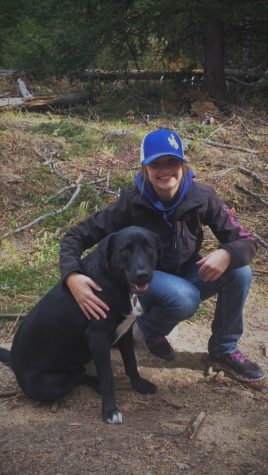 More stories from Madi Fields
Powell High School students might have noticed new faces this year, whether they be students or teachers. But what some might not have noticed is two new varsity coaches and athletic trainer.
Mr. Alan Hill is the athletic trainer replacing Mr. Dax Mitchell. Some athletes may have already met Mr. Hill due to him coming and meeting sports teams during two-a-days earlier this year.
"We're excited to have Mr.Hill with us this year," tennis coach Mr. Brandon Preator said. "He has a strong resume and has already started building great rapport among students and coaches. He has been very helpful to the tennis program already, and we are fortunate to have him here at PHS."
Mr. Hill is originally from Lingle. He went to the University of Wyoming for his undergraduate degree and then transferred to Texas Tech for his masters.
"
I look forward to being a part of this amazing community and being able to work with incredible students"
— Mr. Hill
"I look forward to being a part of this amazing community and being able to work with incredible students," Mr. Hill said.
His wife, the former Lexie Nemitz, graduated from PHS in 2013, and the opportunity presented itself to move to Powell when the athletic training position opened.
"The biggest struggle for me is that I am a good distance from my mom and dad so I may not be able to visit them as often as I'd like," Mr. Hill said.
Mrs. Tasha Miller was hired as the varsity volleyball coach who has been a part of the program for four years. She was the freshman coach in 2015 than moved up to JV coach for three years.
"Honestly I have never thought of being a varsity coach," Mrs. Miller said. "I just love the game and love coaching."
This year she will be the 2019-20 varsity coach taking over for past head coach Mrs. Randi Bonander.
"I am looking forward to being able to share my passion for the game to all of the girls in the program," Mrs. Miller said. "The biggest struggle this year will be building confidence in the girls to believe in themselves as much as I do."
Ms. Chelsea Buher was also hired not for varsity volleyball but for basketball. She started as a freshman basketball coach in 2016, but started teaching at Powell Middle School in 2016-current. She will be replacing past head coach Mr. Scott McKenzie.
"My goal as a coach is to make games seem easy," Ms. Buher said. "We will no longer go into games judging a team by the name of their jersey, rather understand a team won't beat us by lack of our effort, but because they earned the win and were just better than us that night."
Ms. Buher also grew up in Illinois playing sports year-round than receiving a full ride basketball scholarship to the University of Illinois. She then transferred to another full ride scholarship to Indiana State University.
In high school she set school records for career points (2,208), rebounds (951), assists (417) and steals (334) at Lawrenceville High School in Lawrenceville, IL.
"I don't look at being the varsity coach any differently than any level I have coached previously." Ms. Buher said. "Struggles I foresee is getting my players to 'buy in' and believe that they can accomplish any goal they set for themselves as long as they work hard. I want my players to understand the right to win and that nothing will get handed over to them."