DESSERT OF THE MONTH: APPLE PIE
Prowl reporter, Sami Cole, shares a family recipe perfect for cold winter days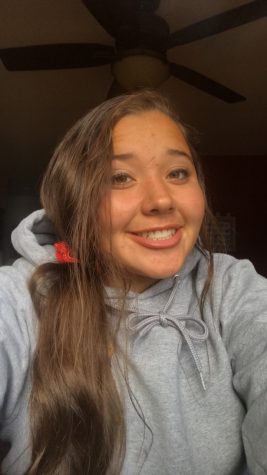 More stories from Sami Cole
The crisp air fills my lungs as I make my way to the front door. Fresh snow crunches below my feet. The coldness seeps through the sole of my shoe, making every step colder than the last.
Snow is pelting my face, making it feel as though it's clenching my vulnerable skin within every flake. Suddenly I catch myself wishing I would have worn a coat like Mom suggested. 
The weather forbids me from doing anything other than something indoors. I grab the icy door handle and take one step inside. I take a deep breath as a warm aroma suddenly overtakes my body. On the counter sits a fresh apple pie, the sweet aroma filled steam still pouring from the edges. Cinnamon covered apples are engulfed in a golden brown crust, which is surrounded by a cinnamon and caramel juice that has seeped slightly from the edges. 
Pie. A talent that has been in the Cole family for centuries. Recipes passed down from generations and taught to the next generation by experienced loved ones. Dad talks about memories from his childhood, when Grandma Coy would bake her divine pies. He says he can still taste the savory mixture of sweet sugar and tart apples. Personally I think it's hard to beat a good apple pie.
If there is one good thing about Wyoming winters, it's that it creates the perfect excuse to bake. The warmth of the oven heats your home, the sweet aroma fills the air and the warmth of the pie will warm your insides.
Need something to cheer you up this winter? Here is an apple pie recipe that has never failed me. An apple pie recipe the Coles have been using for decades.
The key? Do not add too much sugar. If anything, add less than the recipe calls for. The mixture of tart apples, sweet sugar, cinnamon and savory butter blends together to make the perfect apple pie.
Ingredients
6 apples
1 cup sugar (for a more tart pie use ¾ cup)
¼ teaspoon salt
2 tablespoons flour
1 Plain pastry
1 tablespoon butter
1 teaspoon cinnamon
Instructions
Preheat oven to 450 degrees
Pare and slice apples
Sift dry ingredients together and mix with apples
Line piepan with pastry
Fill with apple mixture
Dot with butter
Cover with top crust (curl edges)
Bake at 450 for 15 minutes, then reduce temperature to 350 degrees and bake for 45 minutes longer.