ALL THAT JAZZ
Musicians, vocalists hit high notes in jazz band, Erocne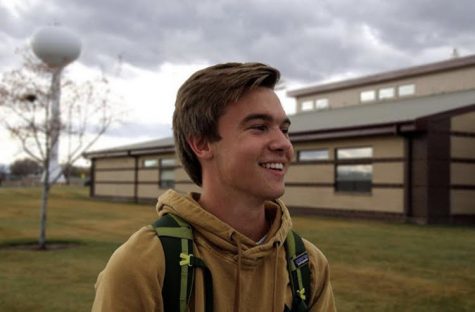 More stories from Jace Bohlman
From Kenny G to Ray Louis Armstrong, jazz music has deep roots in America's history.
Powell High School offers multiple programs to embrace jazz in both Erocne, a small jazz and pop vocal ensemble, and Jazz Band; they both perform regularly for the community.
Junior Joe Kousoulos, who sings as a tenor for Erocne, sees it as a passion in the style and technique of the genre.
"I'm just very passionate about singing, so I tend to take every singing opportunity the school has to offer," Kousoulos said. "I also really love jazz and that style of music, so Erocne being a jazz choir, I was excited to join. The singing and techniques definitely differ from the regular concert choir songs."
Band director Mr. John Fabela, who teaches concert and jazz band, enjoys the jazz band's commitment and style.
"I love getting up early and helping kids learn a style of music that is a change from what they are playing in concert band," Mr. Fabela said. "The addition of piano, drums and bass guitar adds a lot to the experience. Jazz Band is a fun group to play in for kids who enjoy playing their instruments and want to learn about different styles of music."
Sophomore alto saxophone player Aiden Chandler takes pleasure in the style, expression and more one-on-one time that jazz band offers.
"I like jazz band because it provides a new style of music that is very fun to play," Chandler said. "There are [fewer] people in jazz band so the director can have more personalized advice.
Improvisation is a big part of jazz band so you can express yourself through that whereas you can't so much  in concert band."
Erocne has been around for over 40 years, originally called pop group.
In 1993, the name was changed to Erocne (Encore spelled backwards).  This name allows the group to sing all types of music.
"People come to hear Erocne because they enjoy the lighter style of music," choir and Erocne director Mr. John Miller said. "They enjoy jazz and watching and listening to our high school students perform."
Erocne can be different compared to typical singing groups, based on the loose style.
"In Erocne, there is a bit more freedom and people are more energetic and moving while they sing," Kousoulos said. "There are also a lot of solo opportunities and you don't have to follow what is written on the paper. You can always change up the length of notes and add in a few extra notes while keeping the lyrics and keeping up with the beat in your own unique way."