GIVING A BOOST
Two male students assist stunts on the PHS cheer team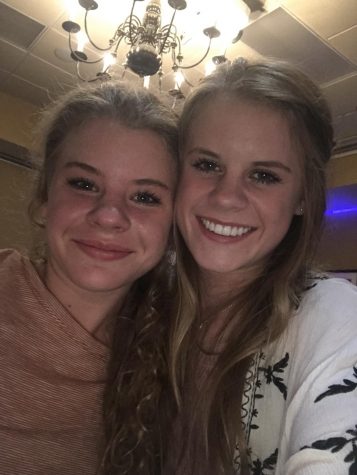 More stories from Jenna Hillman
For the first time in several years, boys have been introduced to the PHS cheer team. The team has always talked about wanting some extra help with stunting.  
Head Coach Mrs. Vicki Walsh told her girls it was up to them to find boys that would be interested. 
As a result, this winter sports season welcomed senior Brody Karhu and junior Geordan Weimer to the team. 
"Both boys are currently participating in Indoor Track, which is their main focus during this winter sport season," Coach Walsh said. "They attend indoor track practice and one to two days a week they come to cheer practice to help us with stunting."
Mrs. Walsh also said the boys' main role on the team right now is to assist the girls with stunting. They may be out on the court between quarters to help the girls with stunting, but they will not be cheering with the girls on the sidelines during games. 
"We love it when the student section cheers with us, and we think by adding more stunts for the crowd to see that will make the game more exciting," Coach Walsh said. 
Weimer nor Brody considers themselves cheerleaders because their main role is to assist the girls with stunts. 
"I also feel I have a role to help push my teammates and help in anyway I can," Weimer said.
Weimer also juggles practices, schoolwork and his social life but says it is all worth it to help out the program. 
"My favorite part about cheer is the people, my coaches and teammates," Weimer said. "They are all very supportive and critical to making our team work. I have so much respect for these people and how hard they work with each other." 
Cheerleading first came to be in the late 19th century as pep squads to cheer on teams at college football games. University of Minnesota student Johnny Campbell is considered to be the first cheerleader for involving the crowd in a collective cheer in 1898.
After explaining that the reason he didn't wrestle this year was to focus on pole vaulting for indoor and outdoor track, Karhu said that Coach Walsh had suggested that he join the cheer program to assist the team with stunts. 
"Mrs. Walsh came to me with this idea," Karhu says. "She asked me if I would like to come to a practice to come see what it was like lifting girls." 
Karhu said he likes to try many activities, and wants to participate in as many things as possible while he can. 
"I don't want to look back and think, 'I had the time, why didn't I try it?'" Karhu says. 
Sophomore Rylee White said the boys will also compete in their Game Day Routine, a co-ed competition that involves a lot of crowd involvement. When the boys aren't helping with stunting during this routine, they yell into megaphones and are the voice of the team. 
"The boys help us out a lot," White said. "In the competition aspect when they're in stunts, it allows more girls to be cheering on the crowd which is what this competition is all about. They are both super friendly guys and have positive attitudes about everything which helps out all of us."
The team hopes they will continue to receive more positive attention. From all of the new stunts and cheers they've accomplished, they'll continue to grow in their abilities. 
"I think if other kids can see how much fun it is to have male athletes and to see the things they can contribute to cheer it will continue to grow," Coach Walsh said. "Our goal for the future is to have a more active role for male cheerleaders. I like to think of them as 'yell leaders,'  having males on the sidelines at games with megaphones, getting the crowd to yell with all the cheerleaders, pumping them up and stunting, stunting, stunting. That is the role I want to see them take on if they are interested in being part of the team."
Karhu advises any males who are interested in trying out for the cheer team should go for it. 
"Give it a shot," Karhu says. "It's not what you think. It's actually really, really cool and it is something that is challenging in a relaxed way. It's a lot of fun." 
Added Mr. Vin Cappiello, who was a cheerleader his senior year in high school: "I highly recommend it. I mean, it's a chance to get involved in something different, you meet all kinds of very cool people and, in my case, you just might find your prom date."