PROWL EDITORIAL: STAFF REACT TO COVID-19
Experiences, predictions vary for students, communities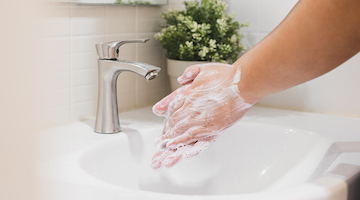 Many districts have closed for the balance of the school year due to the outbreak of the deadly COVID-19 virus, widely known as the coronavirus. While there is only one documented case in Park County, we still are feeling the impact, with online school now in effect at least through April 30.
But what if this epidemic turns out to be more serious and our district and state make the decision to follow the example of others? What would this mean for our students? For the seniors and graduation? 
Several members of the Prowl staff weighed in on this topic; their responses follow:
Abby Landwehr, video editor
The way this epidemic is affecting the world, more than likely students and staff won't be physically returning to the schools anytime soon. Still, students need to finish up the year somehow. We're lucky enough to have a school district that provides us with devices, but online classes are tricky to set up. This said, it isn't impossible. We have access to online programs such as Zoom, Canvas and other ways to communicate. Students should be able to earn the credits for their classes, and the class of 2020 deserves to graduate.
Addy Moretti, reporter
COVID-19 has come to Wyoming, the last place I thought it would ever come, and there's nothing we can do about it. School has been cancelled and so have sports, and I don't expect that to change anytime soon. I've heard from several out-of-state friends that seniors are receiving their diplomas through the mail. And I think that there is a major possibility there will be online classes for the remainder of the year. This virus isn't just going to disappear, and if we are serious about "flattening the curve," then we need to take the necessary precautions such as online schooling and social distancing. 
Ben Whitlock, reporter
I don't honestly think that there is any way we will return to school on April 20 … I would not be surprised if we don't return at all this year. I know the President (originally) said he hoped to reopen the country by Easter, but looking at the rest of the world, I don't think this is possible. COVID-19 ravaged China for over three months and is continuing to ravage Italy after two months. The virus has only truly picked up speed in the United States over the past several weeks. However, we need to remain vigilant, not only with washing our hands and basic hygiene in general, but with social distancing as well. It is crucial to remain in self-isolation if we are to stop the virus as quickly as possible. We also need to be adamant about our schoolwork, too. Online schooling may not be ideal, but it is necessary to flatten the curve.
Emerson Wormald, reporter
This will be a time to remember, and in years to come, our kids will be reading about this in their history books. Most students hoped school would be canceled during the winter storms of Wyoming, but instead we have an international pandemic at hand shutting down the world. Schools have not been closed since World War II. Our school district has been working their hardest to make sure each and every student has an opportunity to learn through different apps and utilities. It may not be the best way to learn, but more than likely Park County schools will be closed through April or until the end of the school year. That said, teachers are emailing students about what will be happening during this time. We should stay caught up and still try to learn even though we are not sitting at a school desk. In the meantime, this is a great opportunity for students to enjoy the sunny weather and be outdoors. Enjoy some time with your family. If you're not active outdoors, take a mental break and binge watch your favorite Netflix show. Stay safe and calm during this chaotic time of COVID-19.
Jenna Hillman, reporter
Considering how long COVID-19 has affected other countries such as China and Italy, I also feel it is unlikely we will return to Powell High School to finish out the 2019-20 school year. Although it is very frustrating that school, sports and other events have been canceled, it is important we do everything we can to stop the spread of coronavirus — specifically help to prevent an individual with other serious health problems from becoming infected with this virus. This is an important time to put others before ourselves and make sacrifices in order to keep them safe. I know Park County School District 1 personnel are doing everything in their power to prepare students for whatever comes next, and it should be very much appreciated. 
Kayla Kolpitcke, associate editor
As a senior, being told I'm not allowed to see my friends, go to school or even go to practice was hard. And as the quarantine deadlines keep being extended, the possibility of doing those things again keeps getting smaller. It will be hard for everyone if school is online the rest of the year. It will be yet another blow to the seniors if there is no graduation ceremony. I understand the importance of staying home and shutting things down in order to keep people safe. With the way this virus is spreading, that's what we have to do. But it is very hard on everyone. The best way to look at it is that it will go away eventually. As of now, our spring sports season in Powell is only temporarily suspended, not cancelled. School is doing online classes, but there has been nothing saying it is for the rest of the year. Graduation hasn't been cancelled. So staying positive that there's still a chance it will all go back to normal is the best bet. And as someone said above, it will certainly make a good story to tell later on. 
Lauren DeWitz, opinion editor
I'm honestly OK with online classes. I'm not a very social person in general. I didn't plan on going to prom, and my activity season is already over, so starting to go online doesn't affect me much. What does worry me, however, is graduation. I hope the senior class still gets their ceremony.
Lauren Lejeune, opinion editor
Going into my senior year I never would have expected a three-week "spring break" with the possibility of my classes being moved online. Probably would have laughed. But it's important to remember that everything being done is for our safety and the safety of others. In the bigger picture, I think it'll work itself out. Now I can't say whether we will be going back to school anytime soon, but I know the Powell High School faculty are doing their best to prepare for whatever needs to happen for students. 
Mentally, switching to online classes is a lot to handle. I mean, it was a running joke between me and my friends as soon as I heard about this, "Oh no! I won't ever get to see the boy I like again!" However, in reality this truly does cause various problems for those with anxiety, depression and other forms of mental illnesses; though my generation likes to alleviate tension through humor, this truly must be taken seriously. It's hard to see all these people continuing to disregard the advice to self-quarantine because I don't think they realize what effects COVID-19 has on others, not just themselves.
Rachel Kuntz, editor 
As a student with an autoimmune disorder, life in general is tough. With a weak immune system, I catch the illnesses faster than anyone gets them, right when school starts, before the winter season or spring season where seasonal allergies start to kick in and they hit me the hardest. With having to stress even more about being extra careful with everyone and everything, it's even tougher to stay healthy. I've been sick for 2-3 weeks, and not with the Coronavirus, but from the stress that triggered me in this pandemic. As a senior, with only two months left until our set graduation, I was so close to the end, finishing the last of my lasts in the spring season. With school, soccer, prom, college classes, work and scholarships to tie up the last months of my high school career, all of it went straight down the drain and became even more difficult. However, not only does this affect me, Powell, Park County or the United States. It affects each and every individual in some way with a good number of lives that have been put on hold. Thinking of the big picture and remaining positive throughout this hardship is dire for the world's recovery after this is all said and done. We are currently living in a future history lesson. 
Scarlette Mendoza, reporter/social media editor
I never expected COVID-19 to ever reach Wyoming of all places, but I stand corrected. As a senior it breaks my heart to hear that other schools have cancelled graduation ceremonies. It took me a few days to come to terms that I may just have to receive my diploma in the mail, but anything for the greater good. Online schooling can help prevent even more cases of COVID-19, but let's just hope for the best and follow safety precautions so we can do our part to flatten the curve.
Tegan Lovelady, reporter
Working in the healthcare industry has opened my eyes to how close-minded people can be. I have been working the front desk at the hospital for a couple days and so many people have come in frustrated or upset they can't visit their loved ones who are in the hospital or the Care Center. There was even a man who stormed out of the hospital because the cafeteria is closed to the public. Sure, certain precautions might be a little inconvenient, but we are trying to protect Powell residents and those from surrounding areas.I have read that cases are climbing rapidly in our state because people don't understand the importance of self-isolation. If people would listen to health officials and stop being selfish, we could put an end to this pandemic sooner than later. There are still no reported cases in Powell … knock on wood. Keep self-isolating and washing your hands to stop the spread. 
Whitney Jones, reporter 
Living through a pandemic is something I never thought I would have to do. Seeing how COVID-19 is affecting the world in many different aspects is quite interesting. With schooling to commence online, I have never been more disappointed. For the most part, I enjoy attending school and learning in a controlled environment. Online learning is not ideal for everyone, but it is essential for the time being. I can only hope that everyone is trying their best to do their part in flattening the curve.
Mr. Vin Cappiello, adviser
Patience and a positive attitude. These traits will be necessary for all of us as we move forward. Certainly distance learning is not ideal, but it is what we will be utilizing if we're not back in our classrooms April 20. First and foremost, however, is the need to practice all the healthful prevention tips being urged by medical experts. Hand washing, social distancing, etc., are vital to flattening the curve. Your health, our health and the health of the world depend on this, and it truly is what is most important during this crucial time in our history. Also, keep your minds engaged in critical thinking; don't immediately discount the value of an academic lesson because it is prefaced by the word "optional." Teachers, administrators, support staff and parents will provide students with the tools they need; it's up to the students to take advantage of what is being offered. And finally, AS a teacher, I believe I speak for many if not all who are involved in your education: We miss you. ALL of you.