THE SILVER LINING
Powell High School's foreign exchange students remain optimistic despite hardships faced from quarantine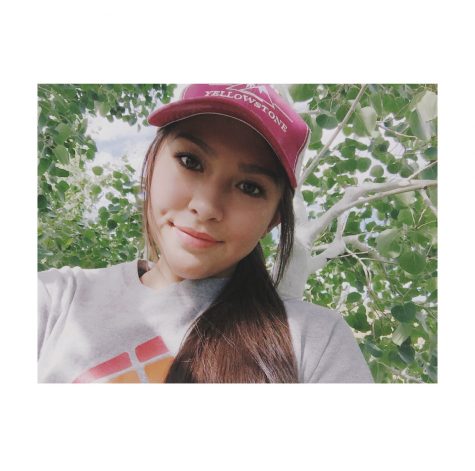 More stories from Rachel Kuntz
With Powell High School's foreign exchange students representing their respective countries in the community, they had the opportunity to experience the culture of America.
But this was cut short due to the COVID-19 outbreak.
For senior Greta Artursson, who's still with her host family, the Morrow's, being in quarantine and in a different country is something she didn't expect to experience.
"Life is as it is right now, a little boring sometimes but mostly just very different from what we're used to," Artursson said. "I think the main difference is that we're not used to being this limited which can be challenging. 
"I think the biggest difference is not being close to my own family, which is something people often want to be doing during big changes in life but on the other hand, I have a host family here who takes care of me very well which I am super thankful for." 
Artursson's exchange program gave the students an option of either staying in the U.S. or going home, so she decided to stay and finish the rest of the year here.
"Since the situation isn't any better back at home in Sweden, I'm staying, hoping and waiting for better times," Artursson said. "Also right now, all the flights back to Sweden are cancelled. My family in Sweden are not worried, [and] they are more exposed to the virus than I am so they are fine with me being here."
Artursson valued socializing, being able to experience life in an American school and misses life before quarantine.
"Right now, I am doing online schooling here and it's alright but I just miss seeing my friends like usual and especially the social aspect of school," she said. "Since I don't get credits for what I do here, school was a place to hang out with friends, try sports and experience the high school life, which I'm missing out on right now." 
Artursson is optimistic about quarantine, despite missing out on socializing at school and in the community.
"A good thing about the quarantine is that it brings people together, we have to support each other during these times [like] over the phone or in real life," Artursson said, "and that has brought me way closer to my host family."
Senior Justin Vanderbeek from Belgium was also given the choice to stay and finish out the year or return home. 
Belgium's COVID-19 death-to-confirmed case ratio is lower than the U.S., which prompted him to make the decision to end his foreign exchange year earlier than expected.
"I took the decision to leave because I thought it would be better to live the quarantine at home," Vanderbeek said. "I have no regrets about it, even if I'm missing Wyoming and friends I have there. One bad thing is that I can't see all of my friends, and I miss them a lot."
Vanderbeek is done with school until college, so life back in Belgium is more relaxed and feels safer at home with family and friends.
"I have a lot of free time so I do a lot of sports," Vanderbeek said. "I mean I don't have anything to do [that's] important so I can just relax. And I'm with my family and friends so I'm feeling better to be with them during these times." 
And senior Sanne Flateby returned home to Norway but is still attending online classes from PHS. 
"Right now, following the online schooling from PHS, it's very different because I'm eight hours in front so every Zoom call is after 5 p.m.," Flateby said. "I've been home for almost a month now and I've just gotten a daily routine that I try and stick to."
Flateby's exchange program, Education First, made the executive decision to send all the students home.
"They thought that was a good idea because everything was so unpredictable," Flateby said. "They didn't know if the U.S. would close the borders, or if a lot of countries in Europe would. They were scared that there would be no flights this summer.
"I don't enjoy [quarantine]. I really miss my life in the U.S. and my normal schedule from before I left. I feel safer being [home] with my family and in my own home."
However, Artursson sees the COVID-19 situation as an event in which to remain optimistic, despite the hardships for everyone.
"This will be a time that we look back at and remember how it changed us in positive ways," she said.