STATCHAT: THE HOME STRETCH
The Panther's winter sports season has come to a close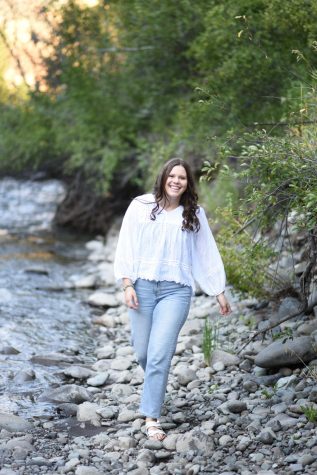 More stories from Gabby Paterson
Coming up on the end of all winter sports seasons, PHS has shown strong efforts at their final competitions.
On March 4, the Panther boys' basketball team went to Worland to compete in the Regional championship, where they were upset by the Lander  Tigers 61-49 and eliminated them from the championship.  This officially marked the end of their season, their final record 13-4.
The previous Friday, Feb. 26, the Panthers beat Lovell 52-32 and then fell to Lander 68-64.
The Lady Panthers finished the season 6-12 and fell 30-23 to Lander at Regionals in Lovell on March 4. The week before, Powell saw some hard work shine through on the home court on Feb. 26, taking down the Lovell Lady Bulldogs 44-35, but the next day the Lady Tigers sent them home with a 52-39 loss. 
"We didn't get the outcome we wanted at Regionals," head coach Ms. Chelsea Buher said. "But the girls fought hard and gave themselves a chance. Our shots just didn't fall that game, but holding Lander to 30 points when they average about 45 is something the girls should be very proud of."
The Panther boys' swim team placed sixth at the 3A state meet in Laramie. Although they did not take a place on the podium, the team brought home a two-time state champion in the 100 yard breaststroke. PHS junior Nate Johnston secured the state title with a time of 59.57 seconds, qualifying for USA sectionals. Numerous other swimmers knocked off time to earn new personal bests, ending their season on a high note. 
Finishing their season with seventh place at state, the Panther wrestling team brought home six top-placers, including an All-State athlete. These top wrestlers include senior Nate Balderas (106 lbs.) placing fourth, junior Logan Werner (120 lbs.) placing fifth, senior Emma Karhu (126 lbs.) placing fifth, sophomore Vincent Timmons (126 lbs.) placing sixth, and senior Riley Bennett (145 lbs.) placing fourth. Senior Seth Horton (152 lbs.) earned All-State and placed second, a great end to his senior year. 
The indoor track team had a successful season as well, sending five athletes to Gillette for state. In order to qualify, the athletes had to place within the top eight in the entire state, which made the stakes extremely high. The boys competed Feb. 27 and placed 10th with only three boys competing. Junior Eli Weimer placed fourth in high jump, senior Kadden Abraham took fifth in the 55-meter hurdles and Lovell High School's Quinn Lindsay secured a second place spot in the shot put.
On the girls' side March 6, junior Jenna Hillman placed fifth in the 400-meter dash and senior Cassidy Miner placed eighth in the shot put.
Leave a Comment