A COACH FOR THE AGES
Estes' career spans four decades, over 200 wins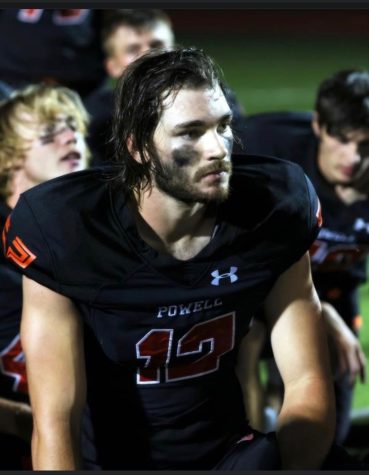 More stories from Nathan Feller
Love it or hate it, the sports world has touched the lives of everyone across the globe. Athletics have brought people together since the first Olympic Games in Athens. And for nearly 3,000  years, such competitions have brought marvel and entertainment to the world.
But Hercules would have died unknown if not for Philoctetes just as any athletes' career would without a great coach behind them. And from the small town track stars to the world renowned Olympians, it's the coaches behind them who develop and hone the skills of the men and women who go down in history as the greats.
While Powell might not be an Olympian factory, this small town has been home to many great coaches and athletes through the years. The walls of PHS are decorated with numerous state championships and many unbroken records. The names of the greatest are stitched into banners and are adorned with pride . . . Panther Pride, to be specific.
This mantra courses through every student, alumni and faculty member to ever come through Powell. And one such Panther to be proud of is current PMS eighth-grade girls' basketball coach Mr. Dale Estes.
For 37 years, Mr. Estes has trained young student athletes at both the high school and middle school level.
"I coached one year of high school tennis in my first year teaching," Mr. Estes said. "I never thought I'd coach [tennis], but I filled in for Keith Bloom who had heart surgery."
Although Mr. Estes had not expected to be coaching PHS tennis, it was the unexpected beginning of a long and locally illustrious coaching career.
The same year, Mr. Estes broadened his career by taking on the job of coaching seventh grade boys' basketball, and soon after he filled the open position as the head coach of the eighth grade girls basketball team. However, he later resigned from coaching the seventh grade boys.
"For a while I was coaching both girls and boys [basketball]," Mr. Estes said, "Then sometime around the early [1990s], I decided to get out of coaching the boys because it was during the fall back then so I could take my boys hunting."
"
Coach Estes is a teacher and coach who makes a positive difference in someone's life every day."
— Coach Mrs. Tracy McArthur
Around 25 years and 243 wins later, Mr. Estes is still coaching eighth grade girls' basketball and in December 2020 added yet another conference championship to the PMS banners. His eighth-grade squad went 13-1 to earn the title.
But Mr. Estes isn't finished yet.
"I'll probably retire at 65," Mr. Estes said. "So I'll stop coaching around that time too."
Nearing the end of a long and impressive coaching career, Mr. Estes has earned one of the most prestigious honors a coach can receive in the state of Wyoming. As of Friday, March 12, Mr. Estes will be officially nominated for the Wyoming Coaches Association Hall of Fame. If inducted, his name will go down among the greatest to ever coach in Wyoming.
"He was very old-fashioned with his coaching style," said freshman basketball player Addy Thorington, who played on the 2019 team that placed third in Conference. "But he was super cool and I think he totally deserves that spot [in the hall of fame]."
His colleagues echo this sentiment, emphasizing not only his notable influences on players but on adults as well.
"In my opinion, Coach Estes is a rock star," Language Arts Department Chair and middle school basketball coach Mrs. Tracy McArthur said. "He takes every opportunity to teach but not just math or basketball but about life.
"Coach Estes is one of the most kind people that I have ever met and he has a great sense of humor which comes in handy with middle school basketball players. He is patient with his players and every single one of his players knows that he cares about them as a person."
He is a humble man who created an incomparable impression as a coach, teacher and member of the Panther community. Mr. Estes' nomination to the WCA Hall of Fame is nothing but a perfect fit in his coaching legacy.
"Coach Estes is a teacher and coach who makes a positive difference in someone's life every day," Mrs. McArthur added. "Coaching with him has made me not only a better coach but a better person."
Added Head Tennis Coach Mr. Brandon Preator: "Coach Estes cares for his athletes on a level I've never seen before, which is saying a lot since he has been coaching for so many years and still cares so much for his athletes … You'd be hard-pressed to find a more caring person than Coach Estes."
View Comments (3)