STRENGTH BEYOND ALL MEASURE
An update on Mrs. Stephanie Warren's battle with breast cancer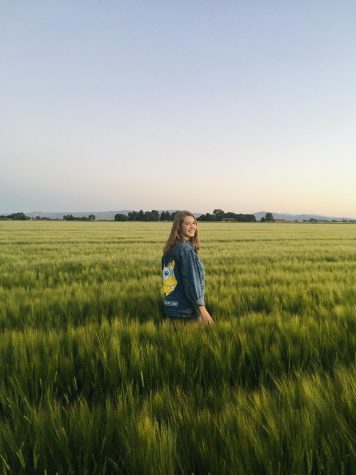 More stories from Addy Moretti
Mrs. Stephanie Warren: PHS boys swimming coach, sixth-grade teacher, mother of two and a warrior. Since her breast cancer diagnosis back in December, she has been fighting a grueling battle for her life. 
But she is not alone.
Since the beginning, members of the community and different organizations, such as the PHS boys' swim team, have made known their support through differing means. The swim team wore pink caps and featured the pink ribbon on team apparel.
"It all started with my sister-in-law organizing the Wakes for Warren T-shirts," Mrs. Warren said. "It always brings a smile to my face when I see someone wearing one. To know they took the time to buy a shirt to support me is humbling and a reminder I'm not in this alone."
Since then, the motocross Race for Recovery, Powell Middle School's BLT Committee, Powell High School's FFA Chapter and the Loretta Cappiello Curran Foundation have shown their support of Mrs. Warren's battle with cancer. 
"Our foundation focuses more on providing comfort to people who have been diagnosed with cancer and their families," said Mr. Vin Cappiello, brother to the late Loretta Cappiello Curran whom the foundation is named after. "I've known Kyler since ninth grade and I know Mrs. Warren is part of our Powell community so I contacted my brother John who is in charge of the foundation to see we could possibly arrange to send something to the family."
The Warren family has been the recipients of donations, gift baskets and numerous other acts of kindness that are helping Mrs. Warren endure difficult rounds of chemotherapy. Since her first session, she has seen significant improvement and believes exercise is helping keep some of the negative side effects of chemotherapy away.
"I just started my fourth  and final round of chemotherapy and have two weeks of treatment left," Mrs. Warren said. "I had a mammogram done on Tuesday, the day before the fourth round started, and it showed the tumor is almost gone. It was 2.8 cm in size and now it is .9 cm in size."
Despite fatigue and exhaustion from having treatments on Wednesday, exercise class Wednesday night and work on Thursday, she has kept up a fairly normal routine, inspiring many through her strength and perseverance. And along with physical progress, some things are starting to stand out as more important both emotionally and spiritually.
"I get asked every week if I am having nausea, other stomach issues, swelling, nerve damage, appetite change, and I say no with a smile on my face," Mrs. Warren said. "As far as something standing out, my faith in a God who never leaves me and has been right here with me on this journey.
"He is the only explanation for a peace that surpasses all understanding. He is the only explanation for the strength I am given daily to keep going and feeling good. Trusting in his plan and timing is what I cling to daily."
Her faith and strength to keep going in the face of adversity are truly admirable. She hopes to be a role model of positivity to all others facing similar challenges.
"I hope that I can be an example of what cancer can not do to others," Mrs. Warren said. "All cancers are different, and each person's journey is different. It is good to see that even with this looming diagnosis, it is possible to keep going, and staying positive will help me beat this."
Leave a Comment