IN THE LIMELIGHT
Powell High School's theater group puts on their first production of the year
More stories from Addy Moretti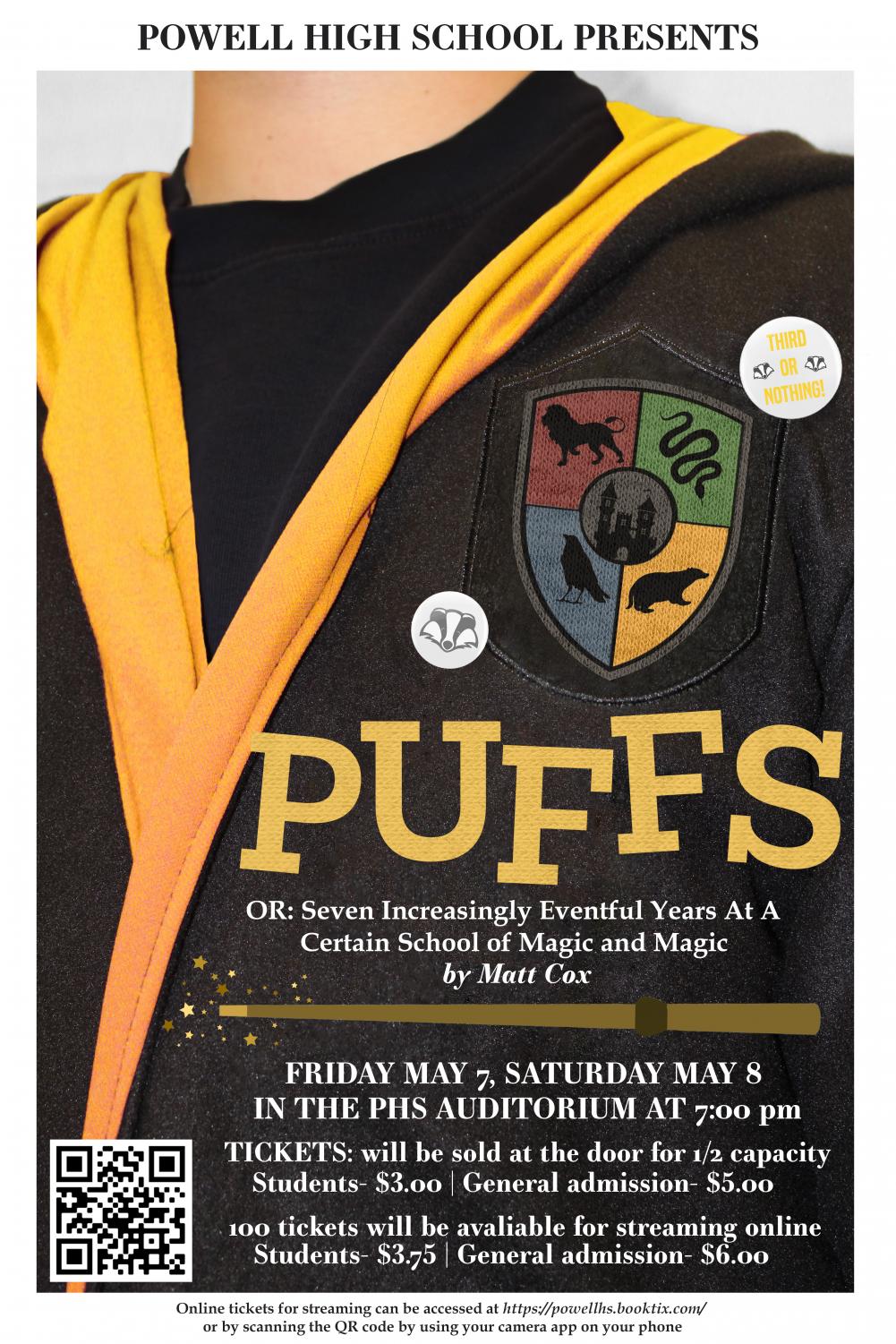 The wizarding world is full of magic, spells and potions. With the flick of a wand and a couple of special words, one can change a chair into a dog. But unfortunately, those sorts of things only happen on the movie screen.
Or do they?
Prepare to be transported to the magical world of a certain boy with a very specifically shaped scar but in a new way. Powell High School's theatre group will be putting on the play PUFFS or: Seven Increasingly Eventful Years At A Certain School of Magic and Magic. As the title indicates, this play is about the Puffs, a group of friendly kids who love badgers and the color yellow. More specifically, the story focuses on a trio of Puffs that form an unbreakable friendship while facing the trials that wizards have to deal with on a daily basis.
This production will take place Friday-Saturday, May 7-8, in the PHS auditorium. Because of COVID-19 protocols, only a certain amount of tickets will be sold and audience members must be masked.
But there are 100 online tickets that will be sold online for those who would like to stream it instead. The link to buy online tickets can be found at the bottom of the poster or you can use your phone to scan the QR code located in the bottom left corner. In-person tickets will be $3.00 for students and $5.00 for general admission. Online tickets will be sold at $3.75 for students and $6.00 for general admission. 
Since it is opening week, the actors and actresses as well as set design, lighting, sound cues and costumes are being perfected to ensure a flawless show. At least, that's the goal.
"What has made the show come together is that the cast has done an excellent job of quickly developing acting chemistry with each other," Director Mr. Bob Hunt said. "The relationships and the acting chemistry that the students have developed will come through in the performance and make it unique and entertaining."
Rehearsal schedules have been busy and cast members have been putting in hours both in and out of school. The students have been utilizing Panther Time to rehearse their lines and act out scenes in Mr. Hunt's class. Set construction was reserved for Saturdays, usually starting at 10 am and continuing throughout the day. PUFFS requires a lot of props and puppets, most of which have been made by students. But the most challenging part was to get the lighting and sound cues just right.
"I worked with Mr. Wormald and arranged to have the set on stage without moving it so that we could finish painting and construction, focus, repair and add color to the lights, create and program projection and lighting cues and set up the sound," Mr. Hunt said. "I hired former student Madisen McDonald to help with the work, and Mr. and Mrs. [Christie and Jeff] Greaham came in to do extra work. We put in a little over 27 hours on Thursday, Friday and Saturday in order to have the cues ready to go for the technical rehearsal and the dress rehearsal." 
Of course, the COVID-19 pandemic has affected the theater group as well. Masks were required for rehearsal and students were required to move the set on and off of the stage every day to make room for the band. But since the Mask Variance, officially named the 25th Continuation of Statewide Public Health Order No. 1, took effect April 29 the actors and crew are no longer required to wear face masks, although some may choose to anyways. This does not apply to audience members, who are still required to wear face coverings.
IF YOU ARE BUYING TICKETS ONLINE:
The YELLOW tickets are for Friday's cast which includes: 
Allie Gilliatt- Narrator
Jaxton Braten- Wayne Hopkins
Kaelin Crighton- Oliver Rivers
Abby Landwehr- Megan Jones
Joe Bucher- J Finch Fletchley
Bailey Phillips- Leanne
Sophe Morrow- Susie Bones
Lily Halter- Sally Perks
Luke Condie- Ernie Mac
LucyJane Crimm- Hannah
Jace Bohlman- Cedric/Mr. Voldy
Ashley Dunkerly- Xavia Jones
The GREEN tickets are for Saturday's cast consisting of:
Elsie Spomer- Narrator
Jaxton Braten- Wayne Hopkins
CJ Brown- Oliver Rivers
Addy Moretti- Megan Jones
Joe Bucher- J. Finch Fletchley
Dakota Hansen- Leanne
Emma Bucher- Susie Bones
Addison Braten- Sally Perks
Luke Condie- Ernie Mac
Hannah Sears- Hannah
Jace Bohlman- Cedric/Mr. Voldy
Isabella Schoonover- Xavia Jones
To promote the showing of PUFFS, Prowl Editor Abby Landwehr has made the accompanying video of the cast taking a BuzzFeed quiz to see which house they would be sorted into. Please enjoy and be sure to check out PUFFS or: Seven Increasingly Eventful Years At A Certain School of Magic and Magic Friday-Saturday May 7-8 at the PHS auditorium.
Leave a Comment