GOING ONCE, GOING TWICE, SOLD
An overview of the upcoming annual Cody Horse Sale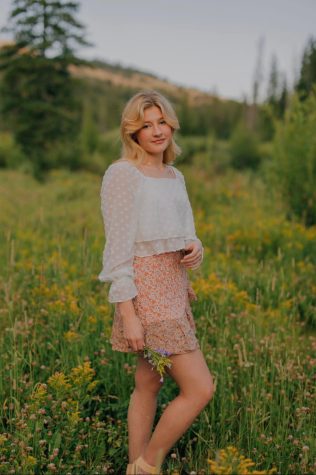 More stories from Chase Anderson
Clopping hooves striking pavement mixed with the hustle and bustle of nearby cars is an odd combination of sound at the annual Best of the Rockies Cody Horse Sale.
The 23rd annual rendition of the Cody Horse Sale will be May 7-8 and will feature over 75 horses up for bid. 
The one-of-a-kind sale is held not in an auction barn, but in the streets of downtown Cody. The sale pays homage to the bygone days when Buffalo Bill himself would have galloped down the road in front of the historic Irma Hotel, which he named after his daughter. 
Many horses have been sold in front of the historic hotel and lassoed thousands of dollars.  
"For the most part, I would say [the sale] is pretty popular because whenever I've gone, there's always been a lot of people," junior Brooklynn Bennett said. "I think it depends on the year. There's a market for everything so certain years are super good for horses and some years aren't."
In 2020, the Cody Horse Sale had an average sale point of $12,197 per horse and a top sale price of $33,250, according to codyhorsesale.com. These big sale prices have been a trend going back to 2014.
Due to the uniqueness of selling horses in the street, the sale has become a yearly tradition for many Cody and Powell residents alike as well as a major tourist attraction.
"
"Especially during spring and summer time, there is a lot of tourism going on in Cody. There is always going to be a lot of people there and a lot of people know about the sale."
— Brooklynn Bennett
In the days leading up to the sale, sellers feature their horses in a variety of ways. The Ranch Horse Competition occurs the day before the sale at Jake Clark's arena in Ralston. This competition allows patrons to see what each horse's strengths and weaknesses are.
Buyers can select their favorite horses the morning of the sale during a roping, barrels, and trail course along with a horse meet and greet. Consignors will saddle each horse fresh that morning in preparation for the big events.
The Cody Horse Sale begins in the afternoon where spectators can watch each horse displayed in a large round pen. Between quarter horses and draft crosses, bidders can take their pick on any horse of their choosing.
Leave a Comment