STAT CHAT: BUILDING A REPERTOIRE
PHS spring sports teams begin to define who they are at the halfway mark and Powell Pioneer baseball season officially begins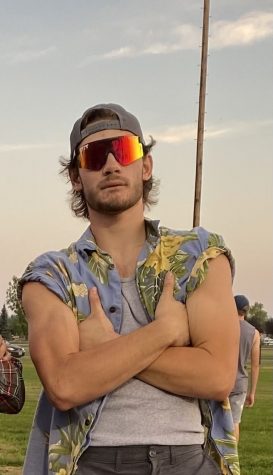 More stories from Nathan Feller
Three weeks in and the spring season is beginning to resemble its frozen predecessor both on the scoreboard and on the Weather Channel.
PHS athletics is currently stretched from one end of the win-loss spectrum to the other as all teams approach the mid-way mark in their respective seasons with blue lips and frozen fingers.
In soccer, the Panther boys are on a roll. With an overall record of 7-1, PHS approaches the 3A West Conference with 21 total points and has secured the No. 1 seed. More recently, the Panthers dominated both Mountain View High, 12-0 April 16, and Lyman High, 10-0 the following day. Standout player junior Hawkin Sweeney leads not only the team but the entire state in goals, having scored 19 so far.
"
I am pleased with our performance so far this season. We can obviously still keep learning, but we are doing very well."
— Hawkin Sweeney
"I feel like we came out very strong," Sweeney said. "And I am pleased with our performance so far this season. We can obviously still keep learning, but we are doing very well."
Unfortunately, the Lady Panthers soccer team is experiencing the opposite of the boys. The girls sit last in 3A West Conference with a record of 0-8 and 1 goal for the season. PHS played Mountain View April 16 and lost 3-0. However, the Lady Panthers nearly clinched their first victory the following day losing a close match to Lyman 1-0.
"We're starting to trust each other more," junior Kabrie Cannon said. "And we have had more shots on goal." 
Conversely, both the boys' and girls' track and field teams were knocked off course at the Dan Hansen Invitational in Sheridan April 17. Competing against a mix of 3A and 4A teams, the boys scored 61 points and the girls earned 40. However, the meet wasn't a total loss for the PHS tracksters as sophomore Hyrum Jeide would take 1st in the boys 300m hurdles with a time of 43.64 seconds.
Opening day for Powell Pioneer baseball was a success. The Pioneers would end their seven inning debut with 9 runs on the board to the Billings 406 Flyers' 6. The team experienced a bit of a slow start, but quickly found its footing in the second inning scoring 4. The Pioneers controlled the game from that point on. Senior Kobe Ostermiller led the team at the plate with 2 hits. And junior Kolt Flores commanded the game on the mound, pitching three innings and allowing three runs.
"I feel that the team was mentally in the game," Pioneer manager Joe Cates said. "We pitched well, hit okay and fielded the ball well."
With only the first game in the books, the Pioneers still have a long summer scheduled. However, track and soccer have hit their halfway marks as the school year draws to a close.