TRACK ATTACK
The PHS track team had a strong showing at Regionals bringing home some major hardware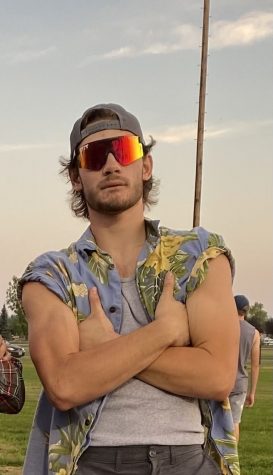 More stories from Nathan Feller
The 3A West Regional track and field meet in Lander yielded positive results for the PHS track and field team May 14-15. Among seven other teams, the Lady Panthers placed first with an overall score of 188.5 points. The boys placed third in the team race with 91 points.
Many personal records were established, and both the boys and the girls were able to celebrate with trophies on the ride home.
"The kids did fantastic," head track and field coach Mr. Scott Smith said. "Lots of season bests, both [teams] bringing home trophies and the girls [winning] the championship really topped off a great weekend."
The Lady Panthers went on to win the state championship one week later. (Watch the Prowl for further results.)
Junior Jenna Hillman was a major contributor to the girls' victory. Hillman won the 100-meter (12.75 seconds), 200-meter (26.44) and 400-meter (59.00) dashes. Hillman was also a member of the girls' 4×400-meter dash squad along with sophomores Anna Bartholomew and Megan Jacobson and freshman Waycee Harvey; the team finished first with a time of 4:07.87 minutes.
"I was so excited when I won these races," Hillman said. "I feel like I have been working hard all year round and it is finally paying off. I have never placed higher than third at Regionals, so I am so excited that I was able to place first in all of my events."
Other first-place finishers for the girls included senior Emma Karhu in the pole vault with a height of 10' 3". Sophomore Kami Jensen won in the 100-meter hurdles with a time of 16.82 seconds and senior Cassidy Miner in the discus with a throw of 114' 6".
Although the boys were unable to finish at the top of the podium, junior Cole Frank earned silver in the boys' 400-meter dash with a time of 51.85 seconds. In pole vault, senior Riley Bennett earned second with a vault of 13' 5". 
"I am very happy with my second-place finish," Frank said. "I worked [hard]; I didn't get first but I still ran my fastest [400] time ever, and [seeded] myself 5th overall in the state."