RUBBING DIRT ON IT
Baseball coach and substitute teacher Tyler England wakes from his coma after a roll-over car accident.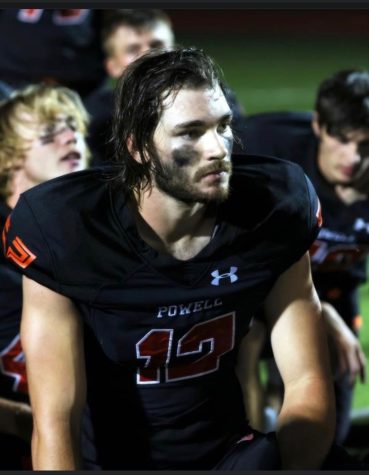 More stories from Nathan Feller
After a heart stopping and coma inducing accident, Powell Pioneer baseball coach and PHS substitute teacher, Tyler England, awoke in a Billings Hospital bed Sep. 29.
While on his way to Powell from The Field of Dreams charity softball tournament championship near the base of Heart Mountain, England was in a roll-over accident on Lane 11 just north of Ralston on Sep. 19 around 6:30pm.
"
Make sure the people you care about know how you feel because tomorrow is not a promise."
— Teri England
"The vehicle entered a sideways slide, tripped, and began rolling," said Charla Baugher Torczon, a spokeswoman for the sheriff's office, in an article by the Powell Tribune. "During the second revolution the driver was ejected from the vehicle. On the third revolution the vehicle struck a barbed wire fence."
England was not wearing a seat belt at the time of the crash.
England was found unconscious shortly after the crash with severe injuries and was Life Flighted to Billings Clinic from Powell Valley Hospital.
According to an article written by Mark Davis with the Powell Tribune, England sustained a broken arm, a fractured skull, fractures in his neck and back and bleeding in his brain.
Despite all odds, England was able to receive proper medical treatment in Billings and is making a relatively speedy recovery. However, while his body is healing well, it is unclear how much England's brain was affected.
"Until Tyler is off the sedation we don't really know what we're dealing with as far as the brain injury goes," England's mother, Teri England, said. "His body is healing remarkably well. My thought is that if he's healing on the outside then he must be healing on the inside too."
Through all of this, the Powell community did not fail to step up.
Awareness for England has spread rapidly. A GoFundMe has been set up and is accepting donations. A FaceBook page titled "Rubbing Dirt On It – Tyler England" has also been set up and is posting updates on England's progress.
Powell Legion Baseball will also host another charity softball event Oct. 30 in support of England.
"Make sure the people you care about know how you feel," Mrs. England said. "Because tomorrow is not a promise."
Leave a Comment