LEADERS IN THE FIELD
PHS' FFA Chapter travel to Cheyenne for the annual State Convention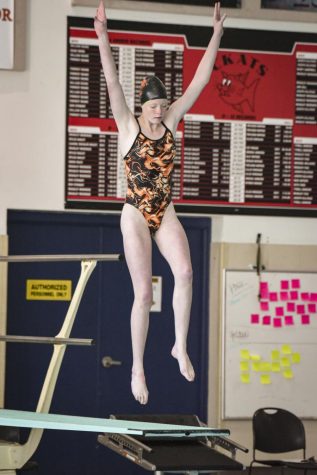 More stories from Emma Brence
On April 6, the Powell-Shoshone FFA chapter traveled to Cheyenne, Wyoming to attend the 95th annual State Convention. The chapter competed in several Career Development Events and Leadership Development Events hosted at the convention. 
Every year, each FFA chapter is classified as a bronze, silver, or gold chapter. This award is given based on the chapter's amount of community service and activities. This year the Powell Shoshone FFA Chapter was awarded a silver chapter award. The chapter also  received the Outstanding Model of Innovation in Strengthening Agriculture Activity award for the chapter's annual Baby Animal Day with the Elementary Schools. 
"My favorite part of the convention was earning our silver chapter degree and winning Outstanding Agriculture activity for our baby animal day," sophomore Charlee Brence said. "And I am excited to see how we build onto it this year."
Sophomores Weston Reynolds, Victoria Beaudry, Wyatt Heffington and junior Garrett Tharp represented the chapter at the Agricultural Mechanics competition. While sophomores Aramonie Brienkerhoff, Baylee Brence, Emma Brence and Kathryn Brence competed in the Agronomy competition on Wednesday, April 6. 
"I think we did very well," Brinkerhoff said. "It was our first year competing, and we came in a little unprepared, so I think we all learned a lot and will be able to prepare better next year."
The Ag Mechanics team took tenth place out of forty-three teams, and Heffington scored the highest on his team. Like sporting events, the top sixth teams are recognized and awarded at the award sessions. The Agronomy team received the opportunity to walk across the stage at one of the award sessions to accept their sixth-place award; the team competed against eleven other chapters, and Brinkerhoff was the team-high individual placing thirteenth overall. 
"My favorite part of the convention was getting to see my students walk across the stage and that awkward moment before when they questioned if it was real or not," Advisor and agriculture teacher Mrs. Shannon Darrough said.
On April 7, juniors Katie Beavers, Abby Wambeke, Lilly Morrison and sophomore Victoria Beaudry represented the chapter in the Farm Business Management competition. The team placed ninth overall, and the individual high was Lilly Morrison.
"I think my team did well," Wambeke said. "We all worked well together and helped each other to be successful."
Freshman Katie Morrison, junior Allison Morrison, senior Taylor Dye and sophomore Brooke Bessler competed in livestock judging. The team placed eighth overall and the team-high placing individual was Taylor Dye.
"I think our team did pretty good," Dye said. "I think we all pushed ourselves to do better and we gave [the competition] our all."
Sophomores Charlee Brence, Virginia Lohr, Shelby Carter and senior Jace Nordeen represented the chapter in Environmental and Natural Resources (ENR) on April 8. The ENR team also walked across the stage to accept their sixth place award. The team competed against twenty-five teams, and Nordeen was the team-high individual placing thirteenth overall.
"We had a rocky start at first," Charlee Brence said. "But, I'm proud of how our team pulled through and got our chapter another sixth place [finish]."
Besides team and chapter awards some Powell-Shoshones upperclassmen and graduated members earned their State degrees. The State degrees are awards given to top members of FFA that have received their Chapter and Greenhand degree. Senior Madison Harvey, senior Rylee White, senior Whitney Jones, junior Allison Morrison and PHS graduate Amber Visocky all received their state degrees on April 8 at one of the award sessions.
The Powell-Shoshone chapter plans to conclude their season on April 30 with a state wool judging competition along with a banquet on May 3.
Leave a Comment