POETRY IN MOTION
PHS Seniors analyze song lyrics for their English class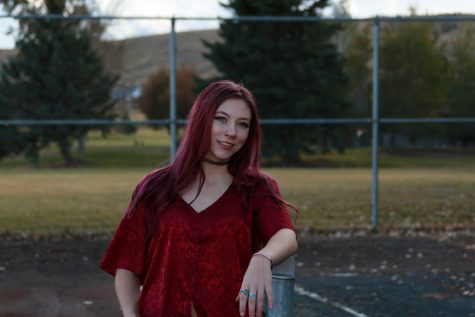 More stories from Lauren DeWitz
Does anybody actually like to do homework? Many students spent hours upon hours working on school related work, and 9 times out of 10 most people would rather be doing anything else – even washing the dishes. But there is always the one time where an assignment is enjoyable.
PHS English teacher Mr. Vin Cappiello gave a memorable assignment to his senior English classes: a lyrical analysis.
This assignment sprung from the poetry unit Mr. Cappiello was teaching prior to assigning this project. Many students chose to evaluate a song with which they had a personal connection. They had to write a research paper, prepare a speech and create a video to present to the class.
Senior Dakota Caudill analyzed a song he wrote and even sung it for the class. He chose to this option instead of making a video. His song is called "September 3, 2015."
"I just hadn't messed with the song in a long time," Caudill said. "It brought back some memories I forgot about."
Marina Salazar chose the song "Lay Me Down" by Sam Smith. She connected the song with her personal life and depicted the untimely death of a family member in her video presentation.
"I chose this song overall because in the song it basically described everything my family felt," Salazar said. "It was very overwhelming and it left a hole in our hearts, so I felt like this song was perfect to describe everything we went through."
Some students decided to just choose a song they really enjoyed. SUch was the case with Becky McConahay, who analyzed the song "New Person, Same Old Mistakes" by Tame Impala. Her video featured a psychedelic theme and several other PHS students dancing.
"That song is just like really fun and upbeat," McConahay said. "I like listening to it when I'm with my friends."
Overall, the seniors said they had fun with the assignment. This project was also a way to let the seniors get to know their fellow peers a little better.
"
It brought back some memories I forgot about."
— Dakota Caudill
"The intent is to have the students demonstrate how they can synthesize a lot of information and put to use the knowledge they've gained throughout the English for College 2 curriculum, which involves critical thinking … and being able to take lots of parts and put them together in the form of a speech and a video and a research paper …," Mr. Cappiello said. "I want them to be able to explore the things that are important to them through music, through poetry and through writing — and through speaking and through video.
"… and really, hopefully, it plays to their strengths because in one or two of those realms, hopefully they find those one or two things that are truly important to them that might be a gateway to something they want."