RUNNERS, TAKE YOUR MARK … SET …
Junior Jay Cox wins state in 2 individual events and 2 relays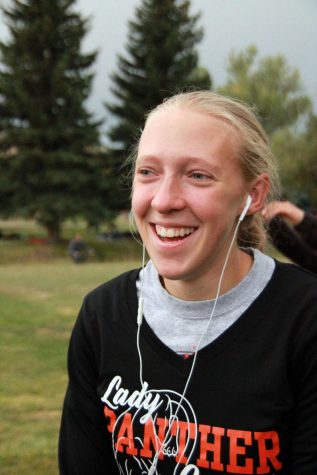 More stories from Kayla Kolpitcke
The Powell Panther and Lady Panther track and field team finished off their season with success after battling through rain and snow Thursday-Saturday, May 16-18, in Caspe  at Kelly Walsh High School.
PANTHERS
The PHS boys placed third with multiple individual first-place finishes.
Despite the challenges that presented themselves in the form of Wyoming wind, rain and cool temperatures, the Powell athletes pushed through.
"We had a lot of kids that placed at state than they actually did at regionals," Head Track and Field Coach Mr. Scott Smith said. "A lot of kids PR-ing at the right time. It was really well done.
"I would say the kids overcame their difficulties really really well," referring to the injuries and the weather.
Junior Jay Cox placed first place in both the 400-meter dash and the 800 run, winning not only the 3A division, but also placing high in the 4A times and receiving Best of the Best medals. He was also a member of two relay teams, both of which placed first.
"It feels amazing to finally achieve at that level," Cox said. "I haven't had a meet quite like this.
"This year, things changed and I was able to come away with four gold medals and two Best of the Best medals in the 400 and 800. I finally get the satisfaction of winning a state title and I get to share that experience with my relay teams."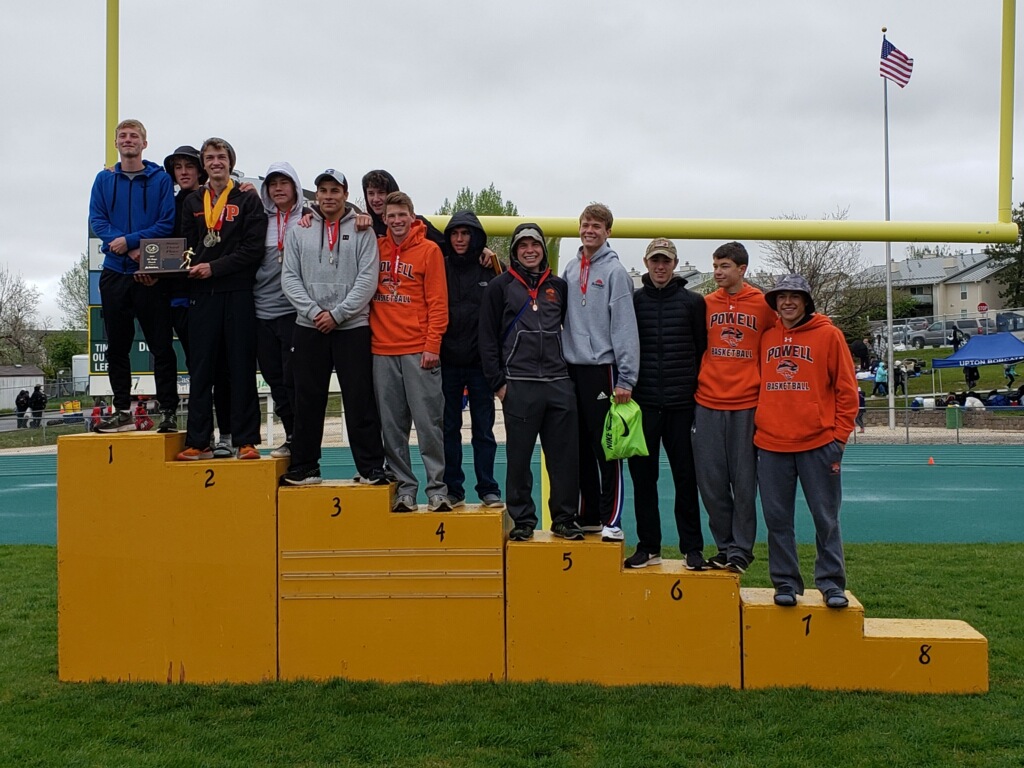 Junior Dylan Preator placed first in triple jump (44 feet, 5 ¾ inches), not only winning but also setting a school record. He was also a Cox's teammate on the winning 4×400 relay team. Preator placed eighth in the 110-meter hurdles and sixth in the 300 meter hurdles.
"I knew if I pushed myself I would do fine, and it worked out pretty well," Preator said. "It felt really good to finally reach one of my main goals."
The results of the state track meet were the product of hard work throughout the whole season, up until the final race.
"I prepared by training a lot harder pre-season than I normally did, I did a lot more [long] distance runs," Preator said. "The main challenge I had to overcome was exhaustion. The hardest part of state, I think, is preparing yourself for each event no matter how tired [you are]."
Cox had similar thoughts about mentally preparing for each event.
"I was a complete wreck before the 800," Cox said. "I was incredibly nervous. I just tried and to keep my mind calm and tried to visualize my race."
Overall, the team had a positive reaction to the results.
"I think the team had a few hiccups, but we generally performed well," Cox said. "There were some places where it could've gone better, but there were some surprisingly good performances."
LADY PANTHERS
The Lady Panthers placed second overall in the team race.
The foursome of Jazlyn Haney, Caitlyn Miner, Emma Karhu and Jayden Asher won the 4×100-meter relay.
Freshman Jenna Hillman placed fourth in the 100 dash, third finish in the 200 dash and second in the 400. She was also part of a 4×400 meter relay team that placed fourth.
"I'm pretty happy with my results overall, because my goal for the season was just to make it to state in one event and I ended up placing in four," Hillman said.
Junior Sabrina Shoopman placed first in the 300-meter hurdles, fourth in the 400 dash and third in the 100 hurdles. She was also on the 4×400 relay team that placed fourth.
"The biggest challenge I faced was having confidence in myself and controlling nerves and anxiety before races," Shoopman said. "Winning my 300 hurdles made me feel accomplished and overjoyed. It was amazing to reach the goal I'd set for myself."
As they spent the season preparing for their races, the athletes had to support of all the coaches.
"We have some incredible athletes and just great people who made this season super fun," Shoopman said. "Coaches also played a huge part in our successes, they've invested lots of time and effort into our team and athletes."
The season ended on a good note for many of the athletes.
"I really enjoyed my first high school track season and loved getting to hang out with all of my teammates," Hillman said.
Jumping coach Mrs. Ashley Hildebrand spoke highly of the Powell athletes.
"They came out at the beginning of the season ready to work hard and it paid off in the end," Hildebrand said. "They worked hard in practice, competed with determination and fire, supported each other and represented Powell in a positive way."
Powell Lady Panthers final results –
100-Meter Dash:
Fourth place – Jenna Hillman (13.41)
200 Dash:
Third place – Jenna Hillman (27.33)
400 Dash:
Second place – Jenna Hillman (1.00.71)
Fourth place – Sabrina Shoopman (1:02.32)
100 Hurdles:
Fourth place – Sabrina Shoopman (16.81)
300 Hurdles:
First place – Sabrina Shoopman – (47.06)
Third place – Emma Karhu (48.40)
Pole Vault:
Third place – Emma Karhu (10-00.00)
High Jump:
Third place – Gabri Lundberg (4-10.00)
Discus Throw:
Fourth place – Rachel Bonander  (117-07)
Sixth place – Cassidy Miner  (105-07)
Shot put:
Fifth place – Cassidy Miner (34-02.00)
Eighth place – Rachel Bonander (31-11.50)
4 x 100 Relay:
First place – Jayden Asher, Jazlyn Haney, Emma Karhu and Caitlyn Miner (52.31)
4 x 400 Relay:
Fourth place – Abigail Urbach, Caitlyn Miner, Sabrina Shoopman and Jenna Hillman (4:23.25)
4 x 800 Relay:
Ninth place – Sidney O'Brien, Jenna Merritt, Hailee Paul and Hailee Hyde (11:39.16)
Powell Panthers final results –
100 Dash:
Sixth place – Kaelan Groves (11.95)
200 Dash:
Fifth place – Brody Karhu (23.45)
Seventh place – Kaelan Groves (24.09)
400 Dash:
First place – Jay Cox (49.58)
Fifth place – Brody Karhu (51.59)
800 Run:
First place – Jay Cox (1.59.68)
Eighth place – Jayden Yates (2:07.45)
1600 Run:
Eighth place – Alan Merritt (4:48.48)
Tenth place – Jayden Yates (4:51.83)
Sixteenth place – Joey Hernandez (11:09.41)
3200 Run:
Third place – Alan Merritt (10:26.95)
Seventh place – Jayden Yates  (10:33.72)
110 Hurdles:
Eighth place – Dylan Preator (16.78)
300 Hurdles:
Sixth place – Dylan Preator (43.27)
Pole Vault:
Second place – Brody Karhu (13-06.00)