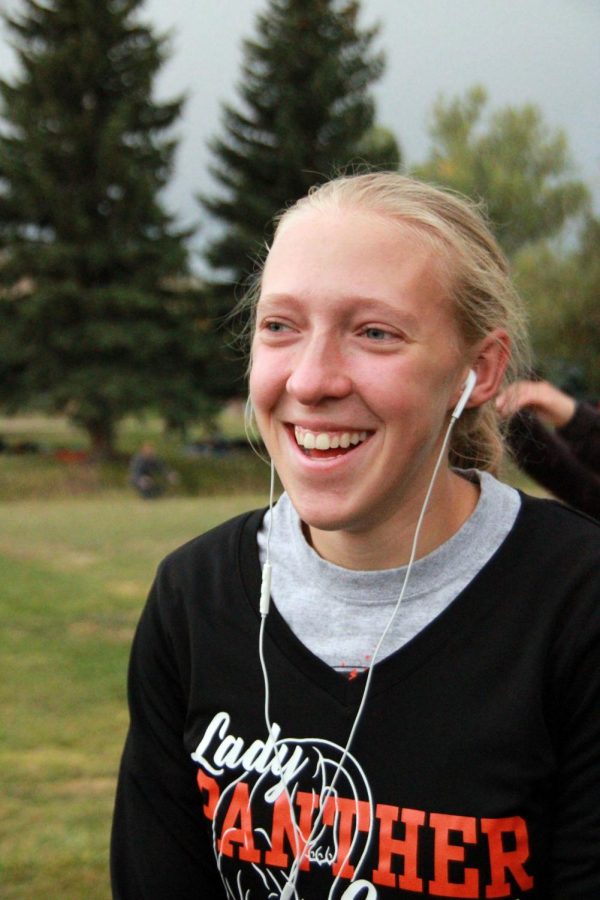 Kayla appears to be a quiet, calm person when you first meet her. But those who know her know she can be quite the opposite. There is a crazy side to Kayla that shows itself occasionally. This could be caused by major runner's high that kicks in after a cross country meet. Or by being paired with her friends, especially sophomore Kabrie Cannon. Together the two of them can drive an entire bus to the brink of insanity in a very short amount of time.
This crazy side can also be seen during one of Kayla's soccer or hockey games. Being the goalie in hockey automatically means there's at least a little bit of crazy somewhere. In soccer, Kayla often leaves opponents on the ground behind her. This doesn't usually sit well with said opponents, which is what gave Kayla the idea to keep a list of the wonderfully creative names she's been called.
"She eats wheat thins like she's a mix between a lizard and a bunny," sophomore Kabrie Cannon says.
While not participating in sports, Kayla can be found reading a number of books, most likely under three or more blankets.
Kayla Kolpitcke , Prowl Assistant Editor
May 08, 2020

ONE LAST FAREWELL

(Story)

Apr 26, 2020

EMPTY STADIUMS; QUIET SIDELINES

(Story)

Apr 02, 2020

WHEN YOU'RE TIRED OF BINGE WATCHING NETFLIX …

(Story)

Mar 13, 2020

UNFORGETTABLE MEMORIES

(Story)

Feb 06, 2020

SLEEPING GIANT TAKES A REST

(Story)

Jan 31, 2020
Jan 06, 2020

JUNIOR WORLD FINALS

(Story)

Dec 09, 2019

ONE FOR THE BOOKS

(Story)

Oct 30, 2019

WENT THE DISTANCE … AND THEN SOME

(Story)

Oct 29, 2019

ONE HILL OF A RACE

(Story)

Oct 02, 2019

STATCHAT: HOMECOMING WEEK WINS

(Story)

Sep 12, 2019

STATCHAT: SUCCESSFUL WEEKEND FOR FALL ATHLETICS

(Story)

Sep 11, 2019

SKILLS USA TAKES ON NATIONALS

(Story)

May 22, 2019

RUNNERS, TAKE YOUR MARK … SET …

(Story)

May 09, 2019

WELL DONE, MRS. DOUGHERTY

(Story)

May 02, 2019
Mar 19, 2019

SOCCER SEASON IS UNDERWAY

(Story)

Mar 11, 2019

BUNDLE UP: It's time for spring sports

(Story)

Feb 21, 2019

3 PHS seniors work to earn esteemed award

(Story)

Feb 11, 2019

TAKING TO THE ICE

(Story)

Feb 11, 2019
Jan 31, 2019

Kolpitcke leads Team Wyo. on Chicago journey

(Story)

Jan 10, 2019

STUDENT SPOTLIGHT: Jacob Hieb

(Story)

Jan 04, 2019

ALAN MERRITT: Student of the Month

(Story)

Dec 06, 2018

CRACKING DOWN ON VAPING

(Story)

Dec 06, 2018

No more pets on school grounds

(Story)

Oct 19, 2018

Sports, activities log thousands of miles

(Story)

Oct 04, 2018

Tips on preparing for a driver's license

(Story)

May 16, 2018
Mar 23, 2018

Lady Panther soccer splits opening weekend games

(Story)

Mar 12, 2018

SPRING INTO SPRING … SPORTS!

(Story)

Feb 07, 2018

Powell's Ice Cats

(Story)

Jan 24, 2018

A conversation with Greg Wise

(Story)

Jan 17, 2018

The unsung heroes of meal time

(Story)

Nov 30, 2017

Runners flock to turkey trot

(Story)

Oct 27, 2017
Oct 25, 2017
Oct 23, 2017

The life of a twin

(Story)