SKILLS USA TAKES ON NATIONALS
Four PHS students represent Powell High School in Louisville, Kentucky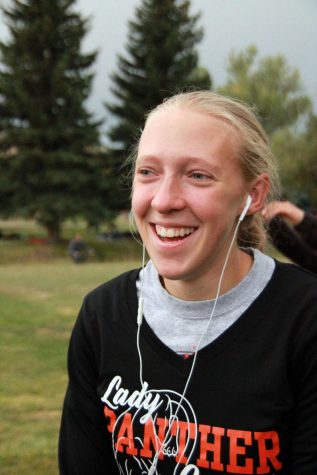 More stories from Kayla Kolpitcke
Four Powell High School students represented their school and their state when they competed in the SkillsUSA National competition over the summer.
After winning their individual competitions at the Wyoming state SkillsUSA competition, current senior Kaitlyn Church, current junior Maggie Cappiello, current junior Bailee Moore and 2019 graduate Nellie Lucas, flew to Louisville, Kentucky to compete against 19,000 other students.
"It was an absolutely unforgettable experience," Cappiello said. "Just walking into the arena was a shock for all of us."
Cappiello competed in Commercial Baking, placing 30 out of 38.
"The competition itself did not go the way I expected and I did not perform the way I thought I would," Cappiello said. "But it was still an amazing experience."
Powell SkillsUSA adviser, Mrs. Denise Laursen, had a different outlook on Cappiello's placing.
"We've had a number of people go in to do that event, get there from the state, and say 'I can't do this' and bail out," Mrs. Laursen said. "She was working with equipment she's never ever even worked with. I mean, she didn't know anything about a proofer, we don't have a proofer here. She's never worked with a deck oven."
The Commercial Baking competition involves making a certain number of assigned baked goods in an eight-hour time span. Cappiello was given nine different baked goods to make, including scones, cookies, cake and bread.
"They have so much they had to make in a short time, it's crazy," Mrs. Laursen said. "It might sound like she didn't do very well, but she did really well. And they make it super hard, because we've got the best of the best."
Senior Kaitlyn Church placed 11 out of 27 competitors in the Early Childhood Education competition.
"The Early Childhood Competition is more laid back than the other competitions when it comes to doing your thing," Church said. "You design and present a lesson plan for 3-5 year olds. I prepared for it by taking the Child Development classes and studying developmentally appropriate milestones for 3-5 year olds."
Junior Bailee Moore competed in Restaurant Service and placed 15 out of 31.
"There were many parts that I was judged on," Moore said. "And talking to my competitors, there were so many things I didn't know. But honestly I wasn't there to win, I was there for the experience, and I learned so much."
"
But honestly I wasn't there to win, I was there for the experience, and I learned so much"
— Current junior Bailee Moore
Lucas placed 23 out of 39 in Photography. The photography competition involved taking four photos and merging at least three of the four into one picture.
To earn the chance to go to National SkillsUSA, a competitor must win first in their event at the state competition. If the first place winner is unable to go to Nationals, the runner up goes in their place. This is how Lucas got selected for Nationals.
At the Wyoming State SkillsUSA competition, junior Olivia Lobingier won first in photography, but chose to go on the trip to Europe with other members of the PHS Band and Choir. Lucas was the runner up and took Lobingier's place at Nationals.
The six-day trip took the PHS students all around Louisville, including Churchill Downs, the site of the Kentucky Derby racetrack. An amusement park in the city also took some of their time, along with a minor league baseball game and the actual competitions.
The cost to travel to the State and National competitions comes from fundraisers set up and worked by the Powell SkillsUSA members.
"We were fortunate to get donations from the Powell School Board and members of the community," Church said. "We also did fundraisers including a bake sale that Mr. D's let us do on their property and an inside-out car wash that allowed us to do on their property."
Hard work and dedication paid off for the four PHS students.
"Overall it was probably the best part of my summer," Moore said. "And a great experience."
The group even got a special send-off from the Cody airport.
"We left on Monday, " Moore said. "And when we first boarded the plane in Cody, the pilot actually mentioned us, saying there [were] 4 students [on their way] to a nationals competition."