ONE LAST FAREWELL
Mrs. Katherine Ackley will retire at the end of this school year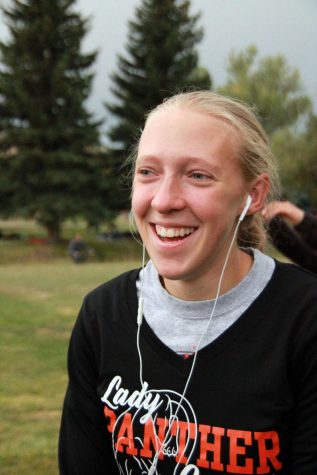 More stories from Kayla Kolpitcke
A Powell High School student parks in the student parking lot, once again running late because of bad roads. They grab their backpack and scurry to the building. After they pass through the front doors of the school, they head straight for the front office to get their tardy slip so they can go to class. They are greeted with a "good morning" from Mrs. Kathy Ackley. Tardy slip in hand, they walk out the doors to the sound of Mrs. Ackley saying, "Have a good day."
This is the situation many Powell High School students have found themselves in throughout their high school years. Mrs. Kathy Ackley has spent years greeting everyone who walks into the school and has left her mark on both the students and the staff.
This year will be her last in the school, though. After 21 years at PHS, Mrs. Ackley will retire at the end of this school year.
"We are going to miss Mrs. Ackley in the office,"  PHS Principal Mr. Tim Wormald said. "She has been a joy to work with and has kept me out of trouble on many occasions.
"I wish her nothing but the best in the future and look forward to hearing about the 4-wheeling and fishing adventures she and her husband, Dave, will have in the future."
Mrs. Ackely has  made many memories at PHS, her favorite being the memorial service held for late teacher Mr. Jim Stringer.
"I was so touched by the way the school and the whole community came together to do a memorial for Jim Stringer when he died," Mrs. Ackley said.
The PHS school spirit is one thing Mrs. Ackley said she would miss, along with something a bit more obvious:  "I'm going to miss the kids."
Retiring does come with some perks, though, including more time to travel and be with family.
"We're going to see more of our kids," said Mrs. Ackley, referring to her two children who live in other states.
Mr. Wormald has worked with Mrs. Ackley for 11 years, since he started at PHS.
"Mrs. Ackley is very detail-oriented," Mr. Wormald said. "She does a great job of keeping track of students and communicating absences to families. She works very hard and cares deeply about our students and staff."
In her years at PHS, Mrs. Ackley has impacted the students in many ways.
"She's always just been very willing to help," Clark resident and PHS senior Rachel Bozell said. "Before I could drive, she drove me to and from school every day since we're neighbors."
Mrs. Ackley always made sure Bozell made it to school safely, especially when roads were bad.
"She's always been willing to help me, which has been nice," Bozell said.
Mrs. Ackley has also helped PHS staff.
"Mrs. Ackley keeps us all organized," Mr. Wormald said. "She helps us keep track of important details.
"Even though she sometimes comes across as a little gruff, she does so only because she cares about students and wants what is best for them. She knows it is best for students to be in school and wants to see them succeed."