STATCHAT: HOMECOMING WEEK WINS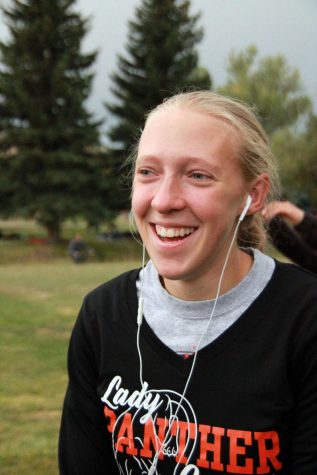 More stories from Kayla Kolpitcke
Cross Country
The Powell High School cross country team competed in two meets Homecoming week. They took on the Lovell Invitational on Monday. No team scores were kept, but the Panther team had six runners place in the top ten.
Junior Joey Hernandez placed first, followed by junior Tyler Pfeifer in fourth place. Junior Lane Franks, freshman Daniel Merritt, sophomore Cole Frank and sophomore Riley Schiller finished next for the Panthers.
"It was a tough course; it was really hilly," Hernandez said. " … I really just didn't want to go out fast; kind of just paced myself, settled in with the pack and then kind of just started my kick later in the race."
The Lady Panthers had three runners in the top 10. Senior Kayla Kolpitcke placed first, followed by sophomore Kabrie Cannon in second place. Senior Karina Boreen placed eighth.
"A lot of people were sick, but we all pulled together as a team," Boreen said. "We weren't as fast as we would've liked to be, but it was pretty good."
The team ran in the Worland Invitational two days later. The Panther team earned a fourth-place finish as a team with 108 points.
"I didn't break personal best or anything like that, but overall the course is pretty fun," Hernandez said. "I really liked it and I think our team did really good."
The Lady Panthers placed fifth in the meet. Kolpitcke finished eighth in the race, the only runner from Powell to place in the top ten.
Volleyball
The Lady Panther Volleyball teams faced off against Lovell and Cody during Homecoming week. On Tuesday, they celebrated a 3-0 victory over Lovell.
"I think the team performed better than we have in the past couple of weeks at various tournaments and games," senior Sabrina Shoopman said.
Two days later, PHS fell to Cody.
"I think the team could have performed better," senior Gabi Metzler said. "We have been struggling to find a way to all connect as a team and work together on the court."
The Lady Panthers' aren't letting the tough loss overtake them though.
"Our team has been focusing a lot on talking on the court and keeping our heads up even when we lose," Metzler said. "That's something that was positive about this game. Even though we were losing, we never got mad at each other or ourselves, which is something that had benefited our team greatly."
Shoopman agreed with Metzler.
"Our team collectively came together and improved on talking on and off the court, we sought after every ball and put up some good fights within long rallies," Shoopman said.
The traditional Homecoming spirit didn't let the team down either. Powell high school students packed themselves into the bleachers to watch the games, painting their arms and stomachs and cheering on the team.
"The best part would have been the support we received from the student section," Metzler said. "The crowd was packed that night and very loud. I love our school and how they come to support us even if it's not a win."
"
I love our school and how they come to support us even if it's not a win."
— Gabi Metzler
Swimming
The Lady Panther swim team competed in Cody on Tuesday in the Cody Dual. Powell won the meet with 106 points compared to Cody's 74.
Eleven swimmers qualified for state, with four of them qualified in multiple events. Sophomore Grace Harder, freshman Gabby Paterson, senior Sidney O'Brien, and freshman Lucia Harder qualified in two events each in the Cody Dual.
The Lady Panthers achieved 14 personal bests during the meet. Eight swimmers beat their previous personal best in one event and three swimmers gained a new personal best in two events.
"I felt the team competed well," Karhu said. "We definitely have a few things we need to work on, but overall we did well."
Event winners at the meet included junior Addison Moretti, junior Elizabeth Liggett, junior Emma Karhu, and Rocky High School senior Anna Fuller.
"I was happy with how I competed," Karhu said. "In diving I got my second best personal record for a six-dive meet, and in my swimming events I didn't do my best ever, but I was happy with how I competed."
As with every team in every sport, the girls have ideas on how to keep improving.
"As a team I think we need to work on cheering for our team during the events, making it to the events on time and trying our best, even when we are tired," Karhu said.
The rest of the season looks hopeful for the swim team.
"It will be close this year, but we definitely have a shot to compete really well a state," Karhu said.
Football
The Panther football team pulled off the first Homecoming win in three years on Friday. Amid the falling rain and echoing cheers from the student section, junior Kadden Abraham, sophomore Hawkin Sweeney and senior Brody Karhu scored point after point, leading the team to a 20-7 victory over Evanston.
"I think it was a great game," Karhu said. "I think it was a great way to start out conference games. A great way to have a homecoming game."
After a slow first quarter, Powell picked up speed.
"We started picking ourselves up and gaining more ground and doing better and better and figuring out things that Evanston's offence was doing and so we started to get our game on," Karhu said.
Earlier in the day during the Homecoming pep rally in the auditorium, the football team asked the PHS students to come and support them at the game. That's exactly what everyone did.
"I think it was just awesome we had so much support from the community," Karhu said. "The student section, they did exactly what we asked, you know. Show up and get hyped I guess, and they did an awesome job of that and it was a whole lot of fun."