ONE HILL OF A RACE
Kolpitcke, Cannon finish in the top 10 at conference in Lander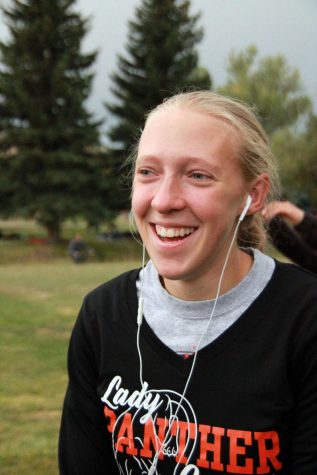 More stories from Kayla Kolpitcke
The Powell Cross Country teams competed in the conference meet in Lander on Oct. 18, finishing with two runners in the top 10. 
The teams competed against the other teams in the conference: Lander, Cody, Lyman, Mountain View, Star Valley, and Riverton.
The Panther cross country team came in fifth place in the meet. Junior Joey Hernandez was 17th overall and first for Powell. Freshman Daniel Merritt placed 22nd and junior Lane Franks placed 31st. Senior Dylan Cordes and sophomore Cole Frank finished next for Powell in 32nd and 46th place. Sophomore Riley Schiller finished in 50th, closely followed by junior Issac Summers in 51st. 
"It went well," Merritt said. "Conditions were pretty good, but the hill stunk."
"The hill" is said in reference to the hill at the two mile mark the runners must climb up before finishing the last mile. 
"[We] did good," Merritt said. "Having Tyler out was kind of a bummer, but I think we ran strong."
Junior Tyler Pfeifer was unable to compete due to an injury.
Junior Riley McKeen finished 52nd, followed by sophomore Ben Whitlock in 57th, sophomore Dylan Escalante in 62nd, sophomore Kyler Warren in 79th, freshman Colton Decker in 90th, junior Ethan Thiel in 92nd, freshman Daniel Franck in 95th and freshman Justin Hobbs in 96th. 
The Lady Panther cross country team placed fifth in the meet. Senior Kayla Kolpitcke placed seventh overall, qualifying her as an All- Conference runner. Sophomore Kabrie Cannon was also awarded All-Conference, finishing 10th. The third runner to finish for Powell was senior Karina Boreen who placed 41st. Senior Kaitlyn Decker finished in 51st, followed by junior Madelyn Horton in 60th and junior Jenna Merritt in 61st. Junior Hailee Hyde finished 64th and junior Elisa Polsen finished 67th. Sophomore Gabby Thomas finished 68th. Junior Jozi Simpson 72nd and senior Greta Artursson finished 78th. 
"I thought it went great," Horton said. "The Lander hill was fun and I got two minutes faster than my time from last year."
The top seven runners on the team competed at state Oct. 26 in Star Valley, with the eighth runner traveling as an alternate. The placing on the team isn't just decided based on the Conference meet. Average running times and placings from throughout the season come into play to decide who will go to state. 
On the boys side, Pfeifer, Hernandez, Merritt, Franks, Cordes, Frank and Schiller went to state, with Summers as the alternate.