WENT THE DISTANCE … AND THEN SOME
Powell Cross Country teams competed in the state meet Oct. 25 in Star Valley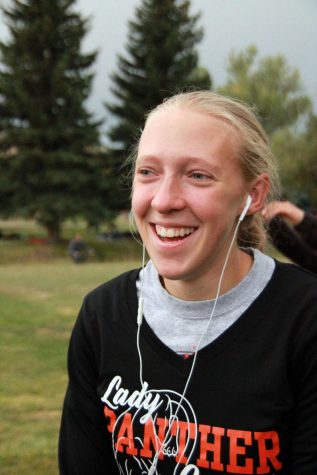 More stories from Kayla Kolpitcke
The gun sounds and everyone takes off, jostling to get in front of the pack. You feel the cold air beating against your skin as snow drifts to the ground. The cheers of the spectators become fainter as you get farther from the start line. The first mile comes and goes. Your lungs burn as each breath brings you closer to the finish line. Your feet pound, one after the other, carrying you up the hills. Eyes are locked on the backs of the runners in front of you, staring until they become the ones watching you.
The race continues until the red fence signaling the last stretch is in sight. Then comes the finish. Arms and legs pump faster with each step. The pain in your lungs spreads until every part of your body aches, but you keep running until your feet cross the once-elusive finish line. You slow to a stop and gasp for air, in pain but satisfied knowing you ran those 3.1 miles as fast you could.
This might be what the Powell cross country runners felt like during the state meet in Star Valley on Saturday, Oct. 26.
As a team, the Panthers placed eighth out of the 14 3A boys teams in the race. Host Star Valley won th event.
"I thought it went well," PHS Assistant Coach Mrs. Ashley Hildebrand said. "I thought that most everybody that wasn't injured ran a really good race.
"I thought the course was pretty difficult. It wasn't horrible, but it was difficult and when you add in the elevation, I thought everyone ran really well."
Junior Joey Hernandez finished first for the Panthers, taking 27th place with a time of 18:34.35. Freshman Daniel Merritt came in 32nd in 18:43.47, followed by senior Dylan Cordes in 51st place.
"I think my race was good," Cordes said. "I think I went out a little too fast for the first mile, though … I'm just happy to be able to run at state for my senior year because I wasn't able to run cross country last year."
"
We may not see eye-to-eye all the time, but we will still have each other's backs no matter what."
— Senior Dylan Cordes
Junior Lane Franks placed 53rd and sophomore Riley Schiller placed 60th. Sophomore Cole Frank finished 65th. Junior Tyler Pfeifer finished race in 82nd place.
"I think the race went good," Frank said. "The weather was nice and helped me run better. I'm happy, it's the best I've run in a while."
The Lady Panther team placed 11th out of the 14 teams competing in the 3A girls race.
Senior Kayla Kolpitcke came in first for Powell and finished 16th overall with a time of 20:56.83. Sophomore Kabrie Cannon finished next in 31st place with a time of 22:00.86.
"I thought the race went well for the most part," Cannon said. "I wish I could have ran a faster time and placed better, but I didn't feel very good so it is what it is."
Coming in third for Powell and 65th overall was senior Karina Boreen. Juniors Elisa Polsen and Hailee Hyde finished in 81st and 82nd place, respectively. Junior Madelyn Horton finished 85th. After nursing a hip injury all week, senior Kaitlyn Decker finished 89th.
"Individually, I did a lot better, especially for the course and weather," Hyde said. "This season I PRed in the very first race and was never close again, but the last race at state gave me more confidence to run next year."
With the season now over, the runners have time to look back and reflect on the team and the season.
"The cross country team is like a family," Cordes said. "We may not see eye-to-eye all the time, but we will still have each other's backs no matter what."